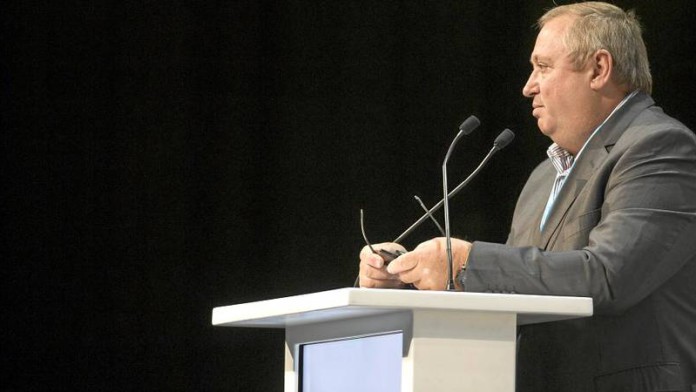 TOILING under the weight of its $2.2bn takeover of Stillwater Mining earlier this year, Sibanye Gold suspended the cash dividend, electing instead to pay shares – a move that will divide shareholders depending on their view for the shares in the company, today rebranded Sibanye-Stillwater.
Net debt is now at $1.69bn or R22.1bn as of the close of the first half of its financial year on June 30. This equates to net debt to earnings before interest, taxes, depreciation and amortisation (Ebitda) of 2.6:1 – a level described by the group as "temporarily elevated". It represents a more than 300% increase in net debt year-on-year, and is roughly 56% of Sibanye-Stillwater's market capitalisation.
As a result, covenants with lenders on the Stillwater bridging facility have been increased to accommodate a net debt Ebitda ratio of 3.5:1. Sibanye said the ratio would peak at no more than 3:1 and that debt would be cut by two thirds as a ratio to Ebitda in about three to four years.
Analysts pondered the pros and cons of the cash dividend suspension. On the one hand, the move could be seen as a divergence from Sibanye's original strategy; on the other, it could be argued that the stock has significant upside having been sold down 65% of its value in the past 12 months.
Said Goldman Sachs in a report: "Sibanye did not declare a cash dividend with these results. Instead it decided to issue two new shares for every 100 shares held. As of yesterday's close this works out to be about R44/share or 4% annualized dividend yield". It added that the capitalisation shares were dilutive.
"Reflecting higher leverage and negative $105m free cash flow during the period, Sibanye has not declared an interim dividend for the first time in its history," said JP Morgan Cazenove analyst Dominic O'Kane in a report. He added that this was "prudent" and "unsurprising" given the company's leverage.
Shares in Sibanye Gold were down 4% by midday on the Johannesburg Stock Exchange valuing the company at just under R40bn.
"We have done something quite different and unique. I know analysts will say it's a zero sum game, but I am a shareholder and I welcome it," said Sibanye-Stillwater CEO, Neal Froneman in a results presentation in Johannesburg.
Froneman insisted Sibanye-Stillwater had not amended its policy on paying dividends. "While we are deleveraging the balance sheet it is not appropriate to use cash to pay dividends," he said. This could be the preferred shareholder return structure for the next six to 18 months, he suggested.
"It's a chunky number compared to what we're used to," said Charl Keyter, Sibanye-Stillwater CFO who added that roughly 25% to 30% of the company's debt reduction plans would be funded from pre0tax profits, and the balance from cash flow. "This is not based on hallelujah Ebitda growth," he said.
MESSY
Analysts described the interim figures as "messy" given that they included two months of contribution from Stillwater's operations as well as once-off items, including R2.8bn in impairments related to the proposed restructuring of the Cooke 1 to 3 shafts and Beatrix West. A R1.1bn provision has also been made for potential settlement of a silicosis suit.
The outcome was a headline earnings loss of R1.47 per share and a normalised earnings loss – which strips out the exceptional items – of 47 South African cents per share.
Operationally, the performance was mixed year-on-year.
Gold output was 8% lower at 689,000 ounces owing to volume and grade declines at Beatrix West and illegal mining at Cooke 1 – 3 shafts which Froneman described as "out of control". Some 665 illegal miners have been arrested and a further 123 employees arrested and suspended for aiding and abetting the illegal miners, said Froneman.
"I really worry that regulators continue to suggest it [illegal mining] is artisanal and should be legalised without understanding difference between abandoned mines and infiltration of operating mines through collusion with employees," he said.
As a result of the illegal mining and underperformance operationally, some 7,400 employees would be affected by restructuring at Cooke 1 – 3 and Beatrix West resulting in a downgrade in Sibanye-Stillwater's full-year gold production guidance to between 1.35 million to 1.38 million oz from a previous base of about 1.6 million oz. The restructuring would cut all-in sustaining costs R25,000 per kilogram but cost about R1bn to conclude.
Analysts worry that Sibanye-Stillwater's deleveraging aspirations could be impeded by further under-performance of the gold assets. The company's cash flows "… remain heavily weighted to gold," said Leon Esterhuizen, an analyst for Nedbank Securities. "We therefore need to see a sharp improvement in the gold operations to turn around the company's fortunes and to generate the cash flows needed to reduce the debt load," he said.
Froneman said he did not expect further restructuring, however. "The core assets of Kloof and Driefontein are running well," he said. "We have not cut back on capital for ore reserve development, or maintenance, or the down dip extensions at Kloof and Driefontein. My view is that this is the base going forward," he said of the new gold production target.
The performance of the platinum group metals (PGM) assets in South Africa and Stillwater in the US – which will be an important driver of Ebitda when its Blitz expansion project is delivered later this year – was excellent.
PGM output for the year has been increased to between 1.1 to 1.15 million oz from 1.05 to 1.1 million oz previously while annual cost savings from the quick-fire acquisition of Aquarius Platinum and the Rustenburg assets of Anglo American Platinum last year had already reached R550m and would exceed the original R800m target by R200m.
Froneman also disclosed that there was less likelihood of having to retire up to 300,000 oz in PGM production from South Africa as previously flagged. "We will make a final call in next few months," he said. "As of now, the benefits of restructuring and the synergies may result in that we don't have to close 300,000 oz in production," he said.