Department of Public Enterprises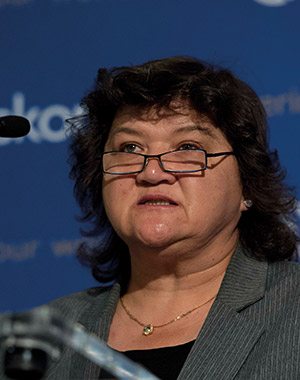 WITH serious question marks over the governance of a number of key state-owned enterprises (SOEs) in South Africa, Lynne Brown – as Minister of Public Enterprises – has to restore the integrity of organisations like Eskom and Transnet. Futuregrowth Asset Management, a major lender to South Africa's parastatals, halted funding to six SOEs including Eskom and Transnet in 2016, citing concerns about their governance and decision structures. Brown fiercely defended the credibility of the institutions, highlighting their unqualified audit reports and payment track records. Futuregrowth's decision was vindicated by former Public Protector Thuli Madonsela's State of Capture report, which highlighted the extent to which Eskom assisted the Gupta family and President Jacob Zuma's son Duduzane to buy Optimum coal mine and a lucrative supply deal with the power utility, leading to the resignation of Eskom CEO, Brian Molefe. With Eskom in charge of the controversial plans to build the country's new nuclear capacity, it is crucial that its governance and procurement procedures are beyond reproach. Despite concerns from National Treasury about the affordability of, and need for, new nuclear power, Brown has publicly expressed her support for the programme, saying nuclear offers one of the cheapest sources of electricity that comes with zero greenhouse emissions. A draft government plan envisions that the first new nuclear power will come on stream in the early 2020s.
LIFE OF LYNNE
Brown, a veteran of Western Cape politics, was active in the United Democratic Front before joining the ANC in 1983. She was appointed premier of the province in July 2008, succeeding Ebrahim Rasool. The ANC was voted out of power in the province in 2009, and Brown served as opposition leader in the Western Cape until her appointment as minister of public enterprises in May 2014.
"I want to assure all lenders and investors that Eskom and Transnet are credible and reliable borrowers."