Economic Freedom Fighters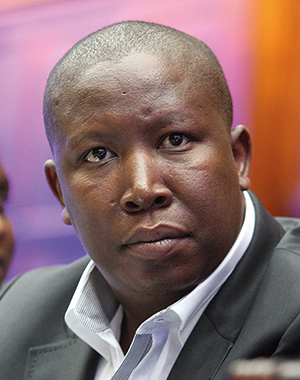 ONCE an ardent supporter of South African president, Jacob Zuma, Julius Malema and his army of red berets have become a major force in local politics in just three years, in part by highlighting the president's flaws, including his close relationship with the Gupta family. The EFF's successful application to the Constitutional Court, to enforce the Public Protector's findings that Zuma should "pay back the money" for non-security upgrades at his Nkandla homestead, demonstrated that the party has more to offer than disruptions in Parliament. The Court found Zuma in breach of his oath of office. Malema may seem preoccupied with Zuma at the moment, but his views on other thorny political issues have not mellowed. His public calls for the occupation of white-owned land has led to criminal charges, and he remains a vocal critic of the mining industry, which he said failed to comply with the Mining Charter, thereby contributing to the high levels of unemployment and poverty. EFF policy calls for the nationalisation of banks and mines, as well as increased local beneficiation by lowering the prices for "raw" commodities. With only 25 seats in Parliament, the EFF is some way from setting policy, but its growing popularity increases the risk that the ANC may implement more populist policies in order to win back support.
LIFE OF JULIUS
2016 was a big year for Malema, whose EFF emerged as a key dealmaker in Johannesburg, Tshwane and Port Elizabeth following the ANC's poor showing in the local elections. He graduated with a BA degree from Unisa in March, and his wife gave birth to their first child in October. Malema was leader of the ANC Youth League from 2008 until his expulsion from the party in 2012.
"We are the government in waiting."