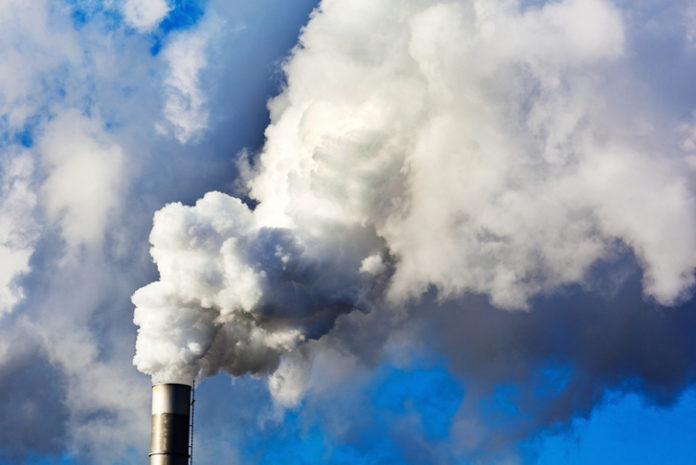 Environmental, Social and Governance (ESG) investing is now the fastest growing category for active fund managers.
According to Blackrock, one of the world's largest asset managers, "Companies with strong profiles on material sustainability issues have potential to outperform those with poor profiles. In particular, (Blackrock) believes companies managed with a focus on sustainability should be better positioned versus their less sustainable peers to weather adverse conditions while still benefiting from positive market environments."
Indeed, some large fund management groups are now refusing to invest is some types of mining companies, such as coal producers, because of their environmental impact. Some investors are demanding to know which are the most suitable investments within a peer group, measured on several key ESG metrics.
At Metals Focus, we produce a comprehensive report designed to make these key, "apple versus apple", ESG comparisons, for larger gold mining companies. With public disclosure of some metrics missing entirely or at best confusing to understand, this has not been an easy report to compile. Also, at this stage of the year, some companies have still not published metrics for 2019.
The main report contains comparisons for a whole host of key ESG measures, from emissions, water, waste, energy to safety, contributions to community investments and women in the workplace.
We certainly do not think this analysis is complete, but rather the start of a journey to a better understanding of these companies from an ESG point of view. (Some academic studies have shown a link between share price performance and leading ESG metrics.) And as with all peer group reports, we certainly do not make any conclusions, but instead highlight the "right" questions to ask of these companies. – Mike Bedford, Metals Focus.
---
---

GHG SCOPE 1 & 2 EMISSIONS
Scope 1 and 2 Green House Gas (GHG) emissions are typically combined. Scope 1 emissions are those coming directly from on-site activities such as vehicle fuel combustion and self generated power. Scope 2 emissions are those generated indirectly from on-site activities, usually emissions resulting from the generation of purchased electricity from national grids.
All these emissions should be directly comparable. The pending prospect of global GHG emission taxes makes this metric highly relevant.
For 2019, Sibanye was the largest emitter of GHGs, followed closely by Barrick. Barrick has increased its GHG emissions by 46% as a result of its merger with Randgold. Other companies that saw large increases were Agnico, up 27%, and Polymetal, up 35%. Sibanye increased emissions by 31% but this can largely be explained by corporate activity.
Interestingly, Newmont dropped its GHG missions by 24% even after its merger with Goldcorp. Meanwhile Endeavour's emissions declined by 30%.
On a unitised emissions basis, the biggest emitter of GHGs is Sibanye, followed by Polyus and Barrick. Sibanye and Harmony have unitised emissions significantly higher than the rest of the peer group. Over the past six years, Barrick has increased its unitised emissions by 130%.
Agnico has the lowest GHG emissions per ounce, followed by Endeavour. Newmont reduced its unitised GHG emissions by 42% y/y, to a level half that of its biggest rival, Barrick.
AngloGold has reduced its unitised emissions by 25% over the last six years, largely a result of reducing exposure to South African assets.
For the peer group, unitised GHG emissions have increased 7% over the last six years.
GHG Scope 1-2 Emissions, kt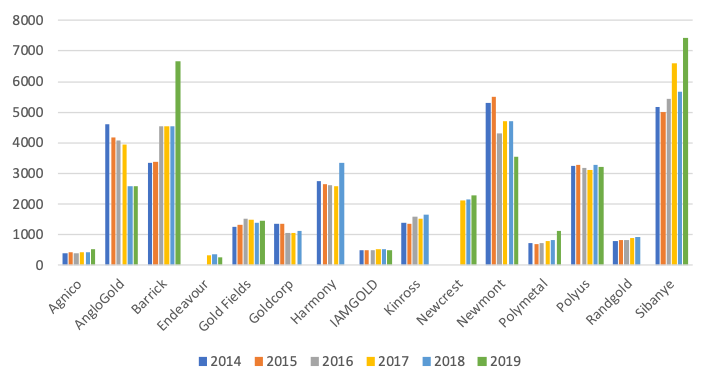 GHG SCOPE 3 EMISSIONS
Scope 3 emissions cover other indirect emissions, such as the extraction and production of purchased materials and fuels, transport-related activities in vehicles not owned, outsourced activities and waste disposal. Scope 3 emissions are also known as value chain emissions and for oil companies can often represent the largest source of greenhouse gas emissions.
This is a somewhat controversial measure for many in the mining industry although less so for gold companies, simply because the majority of gold is not used in further downstream industrial processes.
For 2019, the only companies for which we have data are Gold Fields, Polymetal and Sibanye.
Sibanye had the largest Scope 3 emissions, and for those reporting, Gold Fields the least.
On a unitised basis, Polymetal had the highest Scope 3 emissions in the peer group in 2019.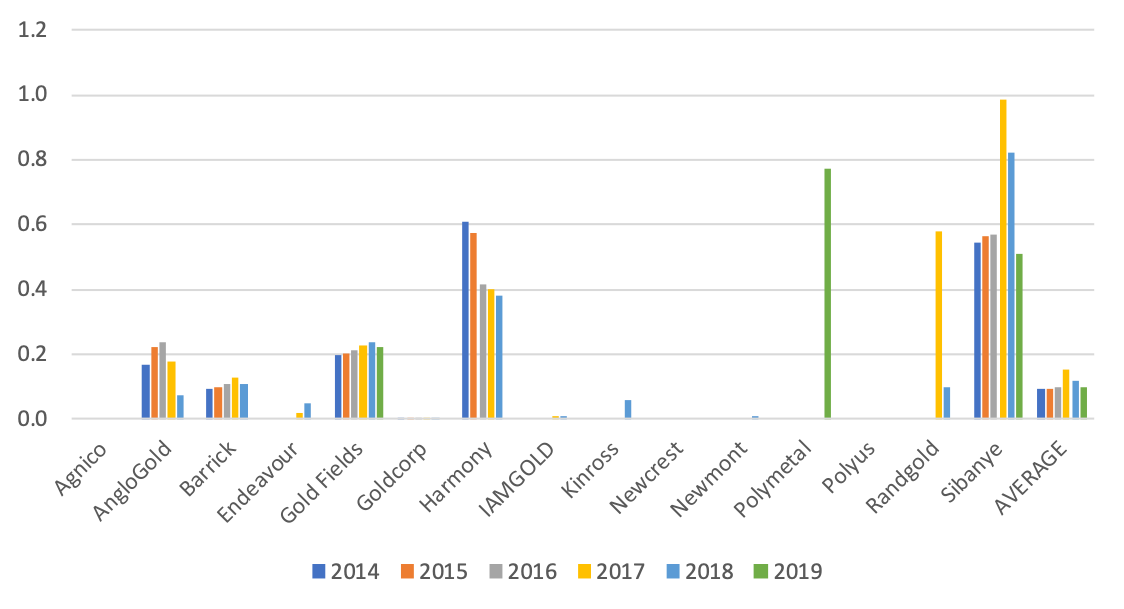 Sulphur dioxide (SO2) belongs to the family of sulphur oxide (SOx) gases. SO2 emissions are an important environmental issue because they are a major precursor to ambient fine particulate matter (PM2.5), a major risk for premature death. When sulphur dioxide combines with water and air, it forms sulphuric acid, which is the main component of acid rain.
SO2 is formed when fuel containing sulphur (mainly coal and oil) is burned, for example in electricity generation and during metal smelting.
In 2014/15, Barrick and Newmont had considerable smelting operations for base metals, leading to very high emission levels.
For 2019, no data was available from Harmony, Kinross, Endeavour or IAMGOLD.
For 2019, on a unitised basis, Polyus, Newcrest and Gold Fields were by-far the largest emitters of SO2.
Sibanye increased its unitised emissions by 142% in 2019. Newmont also registered a large upward change but from a very low base.
For those that have published data, Barrick had the lowest SO2 emissions per ounce, followed by Newmont.
Overall unitised SO2 emissions rose by 58% over the last year for this peer group.
NO2 EMISSIONS
Nitrogen dioxide (NO2) is emitted from cars, trucks and buses, power plants, and off-road equipment. Its presence in air contributes to the formation and modification of other air pollutants, such as ozone and particulate matter, and to acid rain. The main effect of breathing in raised levels of nitrogen dioxide is the increased likelihood of respiratory problems.
For 2019, no data was available from Harmony, Kinross, IAMGOLD or Endeavour.
In 2019, Barrick produced the most NO2, followed closely by Gold Fields. Sibanye and Polymetal produced the least.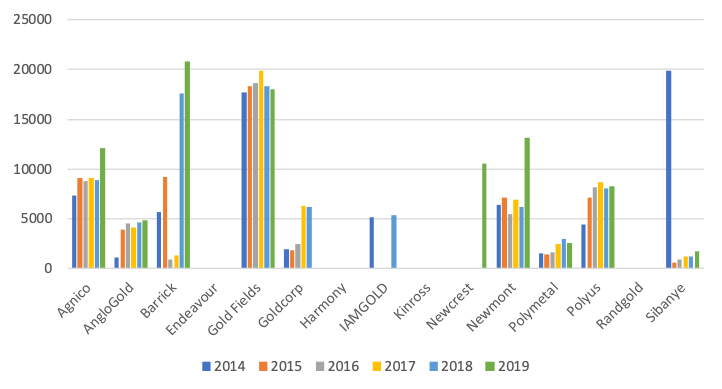 On a unitised basis Gold Fields produced the most in 2019, and Sibanye the least.
Newmont saw a 63% increase in unitised emissions and Agnico a 24% increase. Polymetal delivered the largest decrease, down 15% for the year.
Over the past year, unitised NO2 emissions rose 15% for the peer group.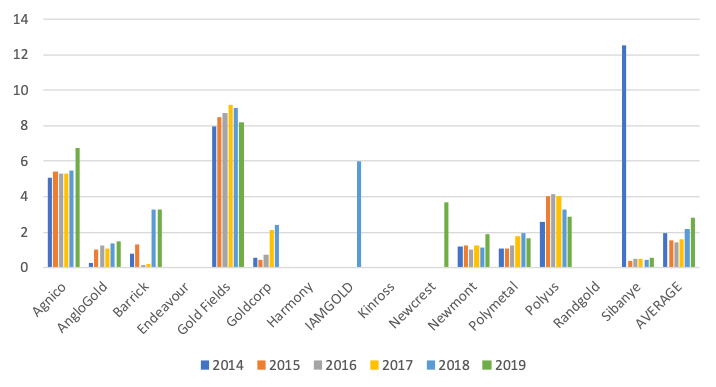 ---
---