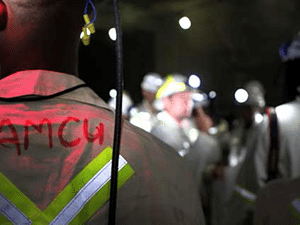 [miningmx.com] – A STRIKE over pay at South African gold mines could lead to renewed violence in the country's mining sector, said Bloomberg News which was citing the views of labour relations consultant, Andrew Levy.
"I think there will be a strike,' most likely led by the Association of Mineworkers and Construction Union (AMCU), which speaks for about 30% of the employees, Levy told Bloomberg News.
If operations continue with AMCU on strike, "there will be bodies and there will be bloodshed,' he said.
Said Investec Securities in a morning note: "Sadly this has always been the way with wage disputes in South Africa.
"The mining industry is seemingly unable to resolve complex disputes without violence from the workers. Such problems have only intensified since the rise of the more militant AMCU," it said.
Click here to read the full article