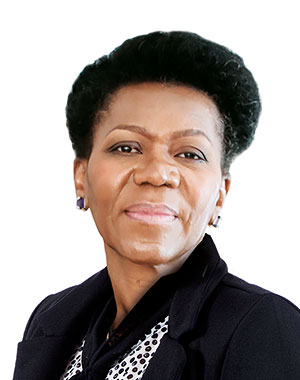 Daphne

Mashile-Nkosi
Chairperson: Kalagadi Manganese
The IDC and other partners have faced extreme resistance from Mashile-Nkosi, who charges like a wounded buffalo when faced with criticism or opposition
THE Industrial Development Corporation (IDC) is playing the long game as it seeks to recover R3bn in taxpayers' money it sank into the Kalagadi Manganese mine and sinter more than a decade ago. This has not been easy, as the IDC and other partners have faced resistance from the company's chairperson, Daphne Mashile-Nkosi, who is sensitive to criticism or opposition. The IDC is calling for an improvement in the technical management of the mine, management changes at head office, and a new funding solution. With its loan not being serviced, it attempted two years ago to put Kalagadi into business rescue, which Mashile-Nkosi opposed.
An alternative solution of mediation also failed, as she accused the state-owned entity of bad faith. A settlement is in the works, says IDC CEO Tshokolo Nchocho, but the timing is unclear. He commented last year that his organisation had no objection to Kalagadi's request to sell assets to repay debt. Kalagadi also owes an estimated R2.9bn to the African Development Bank. The fact that the Northern Cape operation has not generated sufficient cash to make significant inroads into its debts over the past two years, when global manganese prices have been favourable, is, according to Mashile-Nkosi, the fault of the mining contractor.
Nchocho's belief is that the mine needs a recapitalisation - just not from the IDC. Although it may look as though the IDC is being uncooperative, it is notable that Mashile-Nkosi has had disputes with previous partners. For example, ArcelorMittal, one of the founding shareholders, sold its 50% stake in 2012, also expressing concerns about corporate governance.
LIFE OF DAPHNE
Mashile-Nkosi headed a group of black women entrepreneurs who founded Kalagadi Manganese in 2001, and the company received a permit to explore for manganese in 2005. The deal was a victory over adversity and helped crown Mashile-Nkosi's reputation as a dogged, trailblazing entrepreneur, a true standard-bearer for women in mining. She has consequently won accolades for her leadership, which she describes as "autocratic, with a feminine touch". She was unable to complete matric as she participated in the 1976 student uprising, but later obtained a Small Business Management Diploma from Wits Business School.
More Rainmakers & Potstirrers