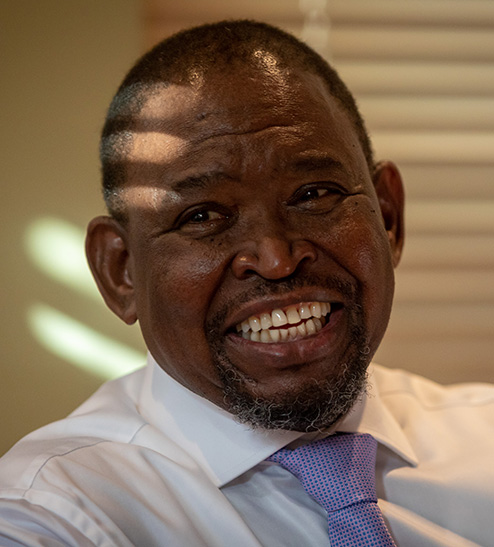 Enoch

Godongwana
Minister: Finance: South Africa
'Without fear of contradiction, I want to say we've dropped the ball because we focused more on fixing Eskom than on fixing power to the grid'
REGARDED as rational and pragmatic, Enoch Godongwana is one of the better-performing members of President Cyril Ramaphosa's cabinet. As South Africa's finance minister for the past 18 months, he has so far managed to steer clear of dirty ANC party politics but unfortunately hasn't managed to sidestep controversy. In August sexual assault allegations surfaced against him but the claim was subsequently withdrawn. As chief of the country's purse strings, Godongwana is disciplined and tight-fisted – sometimes too tight, some commentators say.
Eskom's diesel shortage is a case in point: when the power utility in November made urgent calls to Treasury to help fund its diesel shortage, Godongwana responded with a terse: "There's no money." Eskom's requests for diesel funding would be difficult to meet, as it requires strict oversight and adherence to budgetary processes, Godongwana later explained. On other matters Godongwana has also stood firmly.
In his books, the public sector pay rise negotiations for 2022 are a fait accompli – it's 3% and that's the end of it. The trade unions representing civil servants see the matter differently: they want 10% and argue they have rejected government's 3%-increase. In this regard, the finance minister might have to put some fires out in the new year. Overall, market commentators and analysts have been impressed with Godongwana's ability to hold the line on fiscal and debt consolidation and not give in to the monetary demands of other delinquent state owned companies such as SAA and Denel.
However, his tight ship is not enough to placate ratings agencies, which want to see serious and meaningful economic reforms before they'll even consider raising South Africa's sovereign credit rating to investment grade. Unfortunately, such reforms are not up to Godongwana alone, especially not in a year before national elections, when populist demands often drown out sense and sensibility.
LIFE OF ENOCH
Godongwana is a long-standing member of the ANC, with a good number of years of experience at provincial and national government level. His experience as the former head of the ruling party's economic transformation sub-committee in the national executive committee stood him in good stead when he was appointed finance minister in August 2021, and market commentators widely welcomed the move. His political career includes being a trade union shop steward and holding senior positions in Numsa and Cosatu. Godongwana has an MSc in financial economics from the University of London.
More Rainmakers & Potstirrers