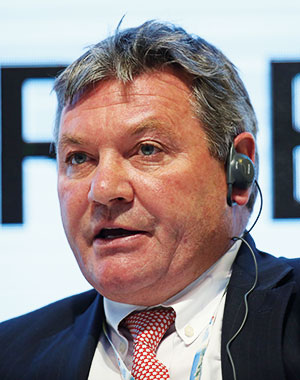 J-Paul

Rollinson
CEO: Kinross Gold Corporation
'About 30% of production is derived from West Africa's Mauritania in the form of the 600,000 oz/year Tasiast mine, currently undergoing expansion.'
CANADIAN gold miner went through some major portfolio surgery last year, and not all of it was part of a strategic blue print. The $340m sale of its Russian portfolio to Highland Gold came barely six months after the invasion of Ukraine, and not - in the end - at the desired price. The Russian Sub-committee on the Control of Foreign Investments demanded the sale consideration be reduced from the original $680m agreement. Still, it was necessary for Kinross to have shot of the assets. Kinross's sale of Chirano was long in the company's plans, however.
Emerging gold miner Asante Gold Corporation bought the mine for $225m in cash and shares giving Kinross a 9.9% stake in Asante on condition of a one year lock-in. The deals left Kinross cash flush which it has largely distributed in dividends and a $300m share buyback. It also leaves the company significantly reweighted to the Americas where it now derives about 70% of its total two million to 2.1 million ounce in annual gold production. The other 30%, however, is still derived from West Africa's Mauritania in the form of the 600,000 oz/year Tasiast mine, currently undergoing expansion. Milling at the mine was increased to 21,000 tons daily (tpd) last year. A further expansion to 24,000 tpd is scheduled for mid-2023.
In addition, a $55m, 34MW solar expansion for Tasiast is also expected to be completed mid-year. At the time of writing,  a new labour agreement with employees is being negotiated. Rollinson acknowledged in a third quarter call with analysts that inflation was a factor everywhere, including Mauritania.
LIFE OF J-PAUL
Rollinson is a qualified mining engineer and geologist who ran Deutsche Bank's Americas mining division. He was also deputy head of investment banking at Scotia Capital, and took over Kinross in 2012. He comes from mining stock: his father was a metallurgist and the family consequently lived in Canada's wide open spaces. Fishing, skiing and boating are among his interests.
More Rainmakers & Potstirrers