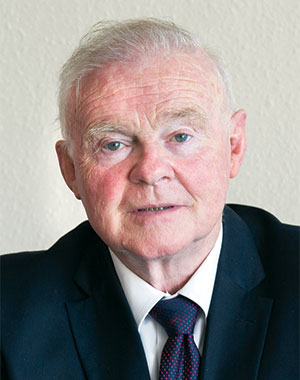 John

Teeling
Executive Chairman: Botswana Diamonds
'The best place to find a mine is where there is, or was, a mine'
YOU win some and you lose some. We last reported on John Teeling's gambit to buy the mothballed Ghaghoo diamond mine from Gem Diamonds for $4m in cash. The money was to be provided by partner Vast Resources for 90% of the mine. But Vast bailed on the deal. Teeling's retort was that Vast was "ultimately unable to provide the required funds". We will probably never know the real reason but anybody who knows anything about diamonds in Botswana agrees that Ghaghoo is a total dog. Teeling has not given up on Ghaghoo; he says he "continues to keep a watching brief" because it contains a large deposit of good-quality diamonds and a fully built plant and infrastructure.
In the meantime, he is touting the attractions of the KX36 discovery "south of Ghaghoo", which he has acquired from Petra Diamonds. Teeling says the deposit is estimated to hold 24 million tons grading up to 76 carats per 100 tons with estimated values between $65 and $97 a carat. "Diamond deposits are rare and incredibly difficult to discover," Teeling adds to convince the sceptics. It is perhaps too easy to make light of Teeling's statements and efforts because the reality is he has previously struck it big – in fact huge – with one of his previous companies: African Diamonds. In partnership with De Beers, African Diamonds discovered the AK46 pipe in Botswana which is now the highly successful Karowe mine owned by Toronto's Lucara Diamonds.
As Teeling points out, Botswana Diamonds is a rare animal – a listed diamond explorer – because mineral exploration has gone out of fashion. You never know, he just might strike it big again. But keep in mind the master's own advice: "High-risk, high-reward means you're going to lose your money most of time."
LIFE OF JOHN
Teeling holds degrees in economics and business from University College Dublin along with an MBA from Wharton and a doctorate in business administration from Harvard, but his greatest asset is probably his mouth. The man has the gift of the gab in spades. He did not just kiss the Blarney Stone – he probably owns it. His ability to wheedle funds out of investors for high-risk propositions and then convince them that it was all worthwhile even when it's going south is legendary. His successes in addition to African Diamonds include Kenmare Resources, of which he was the founder and a former director. His diverse business interests also included the Cooley Distillery, the sale of which he oversaw as chairman to Jim Beam for $95m.
More Rainmakers & Potstirrers