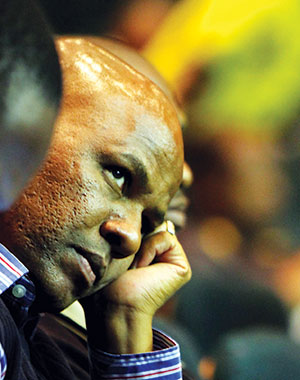 Joseph

Mathunjwa
President: Association of Mineworkers and Construction Union
'Justice for Marikana will only be served if we see Ramaphosa behind bars'
JOSEPH Mathunjwa maintained the Association of Mineworkers and Construction Union (Amcu's) truce with former arch-rival the National Union of Mineworkers (NUM) in 2022, a development bringing much-needed labour stability to South Africa's mining sector. For almost a decade, Amcu and NUM were at each other's throats in a violent turf war that claimed scores of lives and sparked waves of labour unrest. In 2022, Mathunjwa began referring to Amcu's partnership with NUM as "Numco", pointedly donning shirts bearing that logo.
This joining of hands could be seen as a sign of weakness among South Africa's unions, and wage talks involving NUM and Amcu underlined the point that members have lost their appetite for strikes. The two unions did embark on an over three-month strike at Sibanye-Stillwater's South African gold operations, but the result delivered little for their members. NUM and Amcu - or Numco - signed a number of five-year wage agreements with platinum producers in 2022, including Sibanye, without any resort to strike action. That may suggest that Mathunjwa's past militancy has cooled as Amcu has matured as a union.
But Mathunjwa can still get fired up: in August 2022, at the 10th anniversary of the Marikana Massacre - a tragic incident that saw police shoot dead 34 workers taking part in a violent wildcat strike at the Marikana platinum mine, then operated by Lonmin - Mathunjwa said justice required the jailing of South African President Cyril Ramaphosa. Ramaphosa had been a director at Lonmin and famously called for "concomitant action" to deal with the strike. Looking ahead, Mathunjwa may struggle to retain Amcu's membership numbers as employee numbers in the mining sector gradually decline and as the National Union of Metalworkers of South Africa (Numsa) tries to muscle into its turf on the platinum belt.
LIFE OF JOSEPH
Hailing from South Africa's KwaZulu-Natal province, Mathunjwa formed Amcu in 1999 as a breakaway from NUM. Amcu was little known until 2012, when it literally overthrew the NUM as the dominant union on the platinum belt. Mathunjwa of late has become more accommodating to both union rivals and companies. A Salvationist Christian, he is a charismatic speaker when fired up. However, his tone in recent years seems to have mellowed somewhat from his past calls for strident class warfare. Depending on the setting, he can be disarmingly charming and is known for texting biblical verses to contacts, including mining executives and journalists.
More Rainmakers & Potstirrers