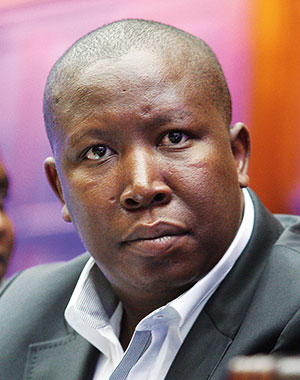 Julius

Malema
Commander-in-Chief: Economic Freedom Fighters
'The mining cartel here [Northern Province] enjoys the fruit of and minerals of Africa's wealth without making any contribution to the lives of our people'
IN 2012, Julius Malema – then leader of the ANC Youth League – alarmed investors with demands that mines in South Africa be nationalised. Fast-forward 10 years and the 41-year-old – now the commander-in-chief of the populist and left-wing Economic Freedom Fighters (EFF) – still has a great deal to say about mines, especially since nationalisation of all sectors of the economy remains EFF policy.
During the 10-year commemoration of the Marikana massacre in August, the EFF reopened old wounds, once again accusing President Cyril Ramaphosa of premeditated murder for having ordered the police to act against striking mine workers. Ramaphosa was a shareholder at the Lonmin mine in Marikana at the time. The EFF, however, has lately focused its attention on the electorate in the Northern Cape – a province richly endowed with manganese, iron and zinc. The party has set out to provoke the communities' sentiment against mining companies in the province.
In June, the EFF handed over a list of demands to the management of Kumba Iron Ore in the province, claiming to act on behalf of former employees and residents. One of the demands was that employees who had lost their jobs 10 years ago be reinstated. In September, Malema addressed a provincial political gathering in Mothibistad, near Kuruman, telling delegates that the Northern Cape is a strategic province in terms of the EFF's agenda to return the land to the people. "It is a province rich with potential, yet our people live as if they are in a desert," he said.
LIFE OF JULIUS
Malema hails from the Limpopo province in the northern parts of South Africa. He joined the ANC Youth League at the age of 14, where he quickly rose through the provincial leadership ranks until he became national leader in 2008 at a controversial and chaotic elective conference. He was found guilty of hate speech in 2010 and again in 2011. In 2012, the ANC expelled him for sowing discord in the party due to his reckless populist utterances. Malema then founded the EFF, a radical left-wing party proclaiming it would nationalise privately owned land and all sectors of the economy once it got into power.
More Rainmakers & Potstirrers