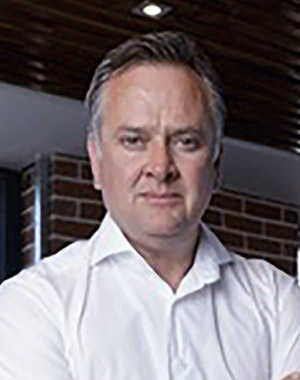 Mark

Summers
Outgoing CEO: Kropz
'There's a global shortage of fertiliser at the moment, demand is increasing, prices are increasing. It's a good space to be in'
WHEN Mark Summers joined Kropz as CFO in 2015, the company's Elandsfontein phosphate project was reported to be fully funded and about to start production. Now the forecast is the project will only ship its first phosphate concentrate this year. This follows a series of hitches for the project - the brainchild of TanzaniteOne founder Mike Nunn - that stretch back to 2010. The latest problem was the discovery in 2022 of harder sections in the orebody that require different mining methods, new equipment, more drilling and more funding from long-suffering shareholder African Rainbow Capital.
In the mine's early years, it struggled to get a water-use licence because of opposition from local environmentalists, who raised red flags about its proximity to the sensitive Langebaan lagoon. After that hurdle was cleared, the next serious obstacle was Transnet's refusal to give Kropz export facilities at the nearby port of Saldanha. The alternative was costly trucking of concentrate to the port of Cape Town. Fortunately, Transnet changed its mind and Kropz will be able to use Saldanha. It may be a pity, given the lessons that Summers and COO Michelle Lawrence have learnt, that they will both be leaving Kropz in 2023, just as sales are about to begin.
Their problem-solving skills would help in developing Kropz's second project, Hinda in the Republic of Congo, a country with high levels of crime and rebel militia activity. Hinda will cost $355m in the first phase and probably $301m in the second, and it is investigating funding options. One crumb of comfort is that even as Kropz addresses its projects' teething problems, there is support from the market. The global price of phosphate rock has soared to a 12-year high of $300/ton on the back of supply shortages from China and Russia.
LIFE OF MARK
Summers intends to pursue new opportunities this year but he will at least stay on at Kropz to ensure an orderly handover. Previously the CFO of Gemfields, he has also held financial positions at other mining companies, including Anglo American, Amari Resources, MDM Engineering and TanzaniteOne. He holds an honours degree in accounting from the University of Johannesburg.
More Rainmakers & Potstirrers