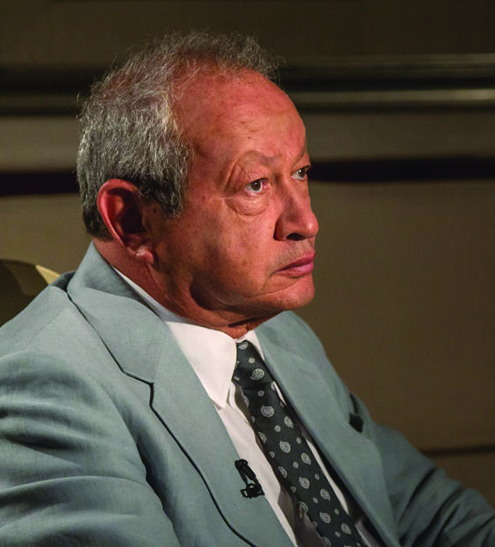 Naguib

Sawiris
Chairman: La Mancha Fund
'

Contrary to what Mr Macron is saying, we shouldn't care about his feelings, to hurt his feelings. We should be winning this war because it's another Hitler in the making'
NAGUIB Sawiris, who built his wealth in Egypt's telecoms sector, continues to defend gold's place in the world's financial system. Amid an across-the-board sell-off halfway through the year, he said the metal would preserve wealth. He was, of course, correct. Gold price weakness during the first half of last year was nothing compared to the asset and cryptocurrency liquidations underway at the time. His dealings were relatively muted, especially in Africa, however.
After establishing a $1.4bn mining fund in 2021, the only major investment to date has been a 19.9% stake in SRG Mining, a company developing the Lola Graphite Project in Guinea. SRG is also looking at a downstream processing facility in Europe in an effort to lessen the continent's reliance on China for battery electric vehicle minerals. His La Mancha Capital Advisory invested $69m in G Mining, a Brazilian gold firm, and put $25m in an $80m fundraiser arranged by another Brazilian firm, the nickel miner Horizonte Minerals.
A merger between La Mancha's investments in Elemental Royalties and Altus Strategies was also completed to form Elemental Altus Royalties. It will seek out industry consolidation in the royalties business through organic growth and merger and acquisition activity. Sawiris will no doubt be gratified to see the success of Endeavour Mining, a gold producer La Mancha was integral in supporting. The London-listed firm is following up its 2021 acquisition strategy by discovering potential new gold mines on its existing properties throughout West Africa. Ever controversial, Sawiris attracted headlines in June after DJ-ing ata Cairo nightclub founded by Goldman Sachs CEO David Solomon.
According to Bloomberg News, Sawiris is famous for relishing the night life. "He's known to roll into the office clothed in the previous night's club attire and brags about his salsa-dancing talents to his 7.8 million followers," the newswire said.
LIFE OF NAGUIB
He received a Master's degree in Technical Administration from the École Polytechnique Fédérale de Lausanne and a Diploma in Mechanical Engineering from the German Evangelical School in Cairo. Never far from controversy, Sawiris warned France's President Emmanuel Macron against indulging Russia's Vladimir Putin as he was "another Hitler in the making". Outright victory should be pursued in Ukraine rather than appeasement, he advised.
More Rainmakers & Potstirrers