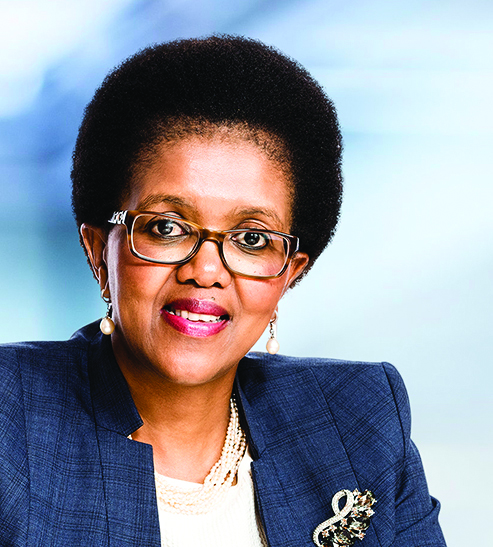 Nolitha

Fakude
President: Minerals Council South Africa
'For more than 24 months we have given the benefit of the doubt to the Transnet management team who have aptly demonstrated through several bizarre decisions ... that they cannot resolve the crisis'
NOLITHA Fakude might have had a solid if somewhat quieter first full year as president of the Minerals Council if not for a letter she sent to Transnet chairman Pope Molefe in December demanding the resignation of the state-owned firm's CEO, Portia Derby. The document, which emerged in January after the council and Transnet had already agreed to cooperate, expressed widely-held industry concerns regarding the deterioration in the performance of Transnet Freight Rail (TFR). A combination of corruption, vandalism, mismanagement and infrastructural deterioration resulted in plummeting coal, iron ore and manganese volumes.
According to The Economist, the total hit to South African mining of unsold exports and road transportation costs in 2022 is a headspinning R400bn, equal to 6% of GDP. If this sets the tone for a more combative Minerals Council going forward, then so much the better for the mining industry which needs to fight its corner all the more forcefully. Elsewhere Fakude presided over a renewed industry safety drive. She also redoubled efforts to improve the well-being of female miners. To this end, a partnership with the National Prosecuting Authority and the GBVF Response Fund was launched aimed at supporting gender-based violence response centres in mining communities and labour-sending areas.
Fakude and the other office bearers at the Minerals Council also ended 2022 in head-hunting mode to replace Roger Baxter, an economist who is stepping down from his CEO role at the Council in April 2023. Baxter has done much to lift the profile of the Minerals Council but Fakude, the first woman to lead the organisation in its 130-year history, has taken matters to a new, impressive level. Long may the potstirring continue.
LIFE OF NOLITHA
Fakude has had a varied career spanning retail, financial services, oil and gas and mining. She was president of the Black Management Forum from 2003 to 2006 and is a member of the Council of Elders, which focuses on transformation and empowerment in South Africa. A staunch advocate of advancing the role of women in mining - an industry long dominated by men - she is also chairperson of the Minerals Council Women in Mining Leadership Forum. When not attending to Council business, she is group director responsible for South Africa on Anglo American plc's Group Management Committee and is a patron of Guild Cottage home for girls.
More Rainmakers & Potstirrers