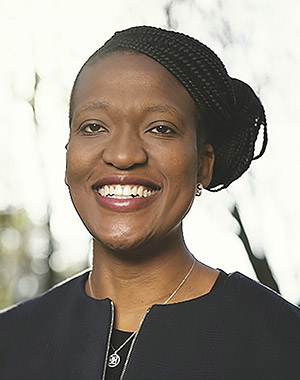 Nompumelelo

Zikalala
CEO: Kumba Iron Ore
'We are working with Transnet for improvements we need to see from a rail perspective'
NOMPUMELELO Zikalala's Kumba Iron Ore, in which Anglo American has a 70% stake, endured frustrating production and sales glitches last year. These included heavy rains, some of them unseasonal, and a safety reset at its Kolomela mine in South Africa's Northern Cape province. Its production may well have recovered from these gremlins had it not been for the year-round underperformance of the state-owned rail and ports operator, Transnet. The legion of problems at Transnet subsidiary Transnet Freight Rail is widely documented.
The upshot for Zikalala was a disappointing adjustment in sales guidance up to 2024. She has sought to remain optimistic on Transnet since her appointment in 2021, commenting in early 2022 that there were signs of improvement amid "increased engagements" with industry. As late as October last year she opted to remain upbeat "because we can only win with Transnet". Perhaps 2023 will be when Transnet turns the corner.
Zikalala is hoping the lifting of speed restrictions on the Sishen-Saldanha rail line and implementation of weather-related mitigations will contribute in this regard. Transnet is also purchasing additional trains after years of wrangling with the Chinese supplier. That alone could have a massive impact on Transnet's performance. In the meantime, Zikalala has challenges in Kumba. One major point of focus is the firm's much-vaunted ultra-high dense media separation plant, known as UHDMS. The project is aimed at cutting dilution significantly. The UHDMS plant should have been implemented last year but the operation requires working in-situ, which has thrown up unforeseen logistical challenges.
The company's R3.6bn Kapstevel expansion has also been delayed owing to safety concerns, so Zikalala has a lot on her plate. Other initiatives under way at Kumba include the possible deployment of hydrogen trucks and the construction of a 65MW solar PV plant at the firm's flagship Sishen mine.
LIFE OF NOMPUMELELO
Zikalala, who holds a BSc in Chemical Engineering from Wits University, has spent the last 21 years of her career at Anglo American. She became GM of De Beers' Kimberley Mines in 2007 (the group's first female GM). Ten years later, she became deputy CEO of De Beers Consolidated Mines. She says she is passionate about driving transformation in the South African mining industry and particularly accelerating the involvement of women and youth. She is chair of the Private Sector Forum of the South African National AIDS Council and has previously served as a non-executive director of the Black Management Forum and Mintek.
More Rainmakers & Potstirrers