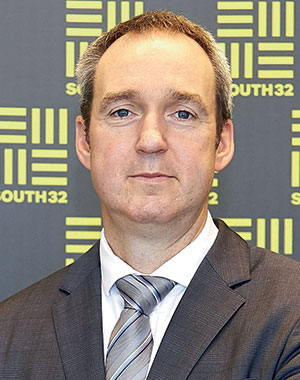 When we started, the cupboard was bare in terms of development options.Our strategy is to increase our exposure to the base metals required for the critical transition to a low-carbon future.'
SHAREHOLDER meetings have probably become a lot easier for Graham Kerr now he no longer has to explain why South32 is still exposed to thermal coal, especially given its South African base with its perennial government obstructions and labour/community upheavals. But South32 retains South African exposure through manganese ore production and its aluminium smelting facilities. Kerr believes aluminium has a major role to play in the decarbonisation narrative, while manganese is likely to have prominence as battery metal technology rolls out.
But with this commodity mix comes risks. South32's desire to maximise manganese ore output from the Northern Cape in order to take advantage of higher prices has been frustrated by government-owned Transnet's lack of rail capacity. In addition, aluminium smelting is dependent on Eskom's largely fossil fuel-generated power – although Kerr has a plan in place for renewable power supply once a contract with Eskom ends. It's critical for future clients to have access to greener aluminium production. At Mozal in Mozambique, where the power source is hydro, South32 has upped its stake to 72.1%. It also reopened its Alumar aluminium smelter in Brazil, which will improve its annualised equity share of aluminium output 16%.
South32 is a company in transition. In October, it took a A$2bn, 45% stake in an operating copper mine in Chile, Serra Gorda, which provides a new line of revenue and greater operating base and battery metals diversification. South32's other base metals production is in nickel and zinc. It also retains substantial exposure to metallurgical coal in Australia, which Kerr defends on the grounds that a realistic alternative to metallurgical coal in smelting, such as green hydrogen, is probably 25 to 30 years away.
LIFE OF GRAHAM
Kerr holds a business degree from Edith Cowan University in Australia and then studied to become a Certified Practising Accountant. Most of his career was spent at BHP Billiton, except for two years at Iluka Resources. He joined BHP Billiton in 1994, where he rose to become chief financial officer in 2011, after stints in managerial roles, including responsibility for the Richards Bay Minerals joint venture in Australia, and diamond exploration in Angola and Corridor Sands in Mozambique. He led South32 through its demerger from BHP Billiton in 2015.
More Rainmakers & Potstirrers