MD & CEO: Perseus Mining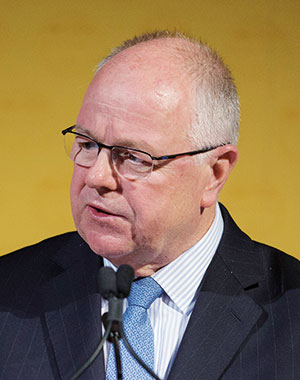 Shares in Perseus Mining were made available to a wider pool of investors after the company was added to the S&P/ASX All Australian 200 Index in December. That provides ample acknowledgment of the steady progress achieved by Quartermaine and his team in the last 12 months: Perseus shares had scaled fresh six-year highs by December.
The reason behind the performance is that Quartermaine has overseen a period of little negative incident. The firm's gold mines, Sissingué in Côte d'Ivoire and Edikan in Ghana, have ticked along nicely – gold sales were just over 200,000 ounces at the firm's 2019 financial year-end in June. The company is also net cash positive and fully funded following finalisation of a $150m debt facility in July for the transformative $265m Yaouré project in Côte d'Ivoire where progress has also been happily predictable.
A mining convention was awarded for Yaouré by the Ivorian government at calendar year-end, and Perseus has awarded the mining contract for Yaouré which, put together, sees the firm on track for the first gold pour in the back-end of this year. The high-end gold production forecast is between 260,000 and 300,000 ounces for 2020. With targeted production of 215,000 oz/year at an all-in sustaining cost of $734/oz, Yaouré catapults Perseus near to the 500,000 oz/year gold production league at a time when investors are keen on finding ways to capitalise on the resurgent gold price. Whilst this is underway, it's crucial Perseus extends the gold reserves of Sissingué – which has 4.5 year of life of mine – and Edikan (six years). To this end, Perseus in November bought nearby tenements at Edikan.
"2020 IS THE CRITICAL YEAR FOR PERSEUS AND SO FAR WE ARE LOOKING IN GOOD SHAPE."
LIFE OF JEFF
Quartermaine has an unusual mix of skills possessing qualifications in both engineering and accounting which he has been performing for some 25 years at various Toronto- and Australian-listed resource companies. Prior to the merger with Amara, he was CFO of Perseus from 2010 to 2013 where after he was appointed MD.