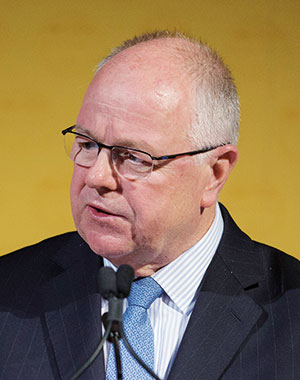 Jeff

Quartermaine
CEO & MD: Perseus Mining
'There has been a lot of talk of consolidation in the gold sector; of creating stronger companies to withstand cycles. We believe we have done that.'
JEFF Quartermaine's Perseus Mining has been in impressive form lately with a recent stand-out moment being the maiden dividend announcement - of 1.5 Australian cents per share - and a dividend policy commitment consisting of semi-annual payouts. There's now the reality of the firm reaching 500,000 ounces in gold production this year as the full impact of the $265m Yaouré project in Côte d'Ivoire is felt. Quartermaine believes half a million oz in gold production is one of those "arbitrary" targets artifically imposed by the gold market. He prefers instead to focus on financial and social performance.
He is even more sniffy about the various mergers and acquisitions to which Perseus has been connected in the past. Then out of the blue, Quartermaine announced the A$230m all-share takeover of Orca Gold, a Toronto-listed firm that owns a block of gold in northern Sudan, scoped to produce 228,000 ounces of gold annually for the first seven years of a 13.5 year life. Sudan, surprisingly the third largest gold producer in Africa, hosts a massive mineral zone currently hosting a gold rush, says Orca Gold's CEO, Rick Clark. It's currently being worked by artisanal miners, but Quartermaine is hoping that in spreading the firm's wings in surprising ways he will consolidate Perseus' reputation as a multi jurisdictional heavy-hitter in the mid-tier gold sector.
Orca also had a 30% stake in Montage Gold Corporation, a Toronto-listed firm which controls the 4.3 million oz Koné project in Côte d'Ivoire, near to Perseus's Sissingué mine. "A clear case of one plus one equalling three," said Quartermaine. In mid-April, Perseus announced the discovery of high-grade reserves at its Yaouré mine which will be used to complete a prefeasibility study on underground mining at the operation in the June quarter this year.
LIFE OF JEFF
One of the mining sector's more eloquent speakers, Quartermaine has an unusual mix of skills, possessing qualifications in both engineering and accounting. He has been using them for some 25 years at various Toronto- and Australian-listed resource companies. Prior to the Perseus merger with Amara, he was CFO of Perseus from 2010 to 2013, after which he was appointed MD.
More Rainmakers & Potstirrers