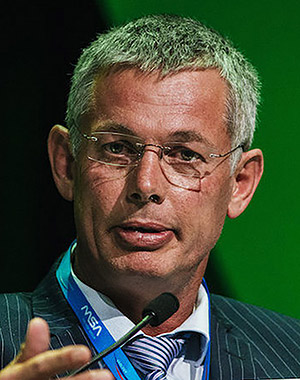 Nico

Muller
CEO: Impala Platinum
Implats' offer for RBPlat offers compelling strategic, operational and financial benefits for all stakeholders.
NICO Muller has cracked it so far on his watch at Impala Platinum (Implats) and it is instructive to look back at the coverage of his appointment in 2016, when some analysts were concerned he might not have enough experience for the job. Since then, Muller has turned Implats around financially and operationally through restructuring the loss-making Rustenburg division; carrying out a highly successful foreign takeover of North American Palladium; and showing he's no pushover by playing hardball on the Waterberg prospect owned by Platinum Group Metals.
Right now you could say he's broadening his experience into a new area - one he has not been involved with before - through the corporate knife fight with Northam Platinum for control of Royal Bafokeng Platinum (RBPlat). It started off reasonably enough with Implats bidding for RBPlat and securing approval from RBPlat management for the deal. Then Northam CEO Paul Dunne gate-crashed the deal, grabbing a strategic stake at an over-the-top price from holding company Royal Bafokeng Holdings, and the fight was on. It is difficult to work out Dunne's real motive, which he says it is to grab a "strategically important shareholding" in a key platinum producer. The deal offers far more obvious material benefits to Implats because its Rustenburg operations adjoin RBPlats.
In the meantime, Muller also has to deal with "bread and butter" issues like capital expenditure. Implats is slated to spend some R50bn over the next five years with R12bn earmarked for expanding its South African processing facilities and R8.2bn for expanding its smelting capacity in Zimbabwe which, Muller points out, has been the group's "best jurisdiction in which to operate" for the past 20 years. That Zimbabwe expansion will add another 600,000 oz of PGM processing capacity and indicates Implats could be looking for new toll processing business from any new platinum operators starting up in the country.
LIFE OF NICO
Muller holds an engineering degree from the University of Pretoria and it's as an engineer that he first really rose to prominence in South African mining, during his three years running Gold Fields' deeply troubled South Deep mine. He restored the mine to profitability but the operation headed straight back down into the red after he left to take the top job at Implats. Before Gold Fields, Muller had spent some seven years as GM with African Rainbow Minerals, and then six years as COO at RBPlat.
More Rainmakers & Potstirrers