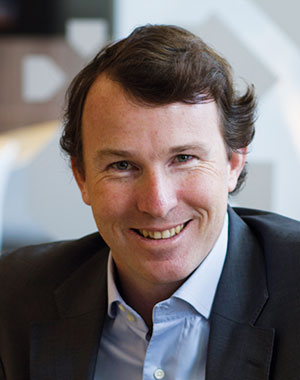 Sébastien

De Montessus
CEO: Endeavour Mining Corporation
'We preferred to do the impairment. It is a more cautious approach rather than a change in approach to the asset.'
SÉBASTIEN de Montessus has overseen a typically upbeat start to 2022 with his gold company Endeavour Mining unveiling a higher than expected dividend. It also gained admittance to the FTSE 100 Index courtesy of value freefalls in Evraz and Polymetal, companies domiciled in Russia. The company also announced the sale of its tail asset, Karma in Burkina Faso which will help lower costs. Endeavour has forecast lower full year production of 1.32 and 1.4 million ounces as a result of the sale but Karma can go because De Montessus has options elsewhere in the portfolio such as the Senegal mine Sabodola-Massawa. Endeavour announced a $290m expansion at the mine in April taking output to 373,000 oz per year with potential to go to 400,000 oz/year.
The group is also pressing on with an aggressive exploration strategy. In October it targeted between 15 and 20 million ounces of gold from seven assets in an effort to extend the life of its mines beyond 10 years. Some five million oz in gold held in indicated and measured reserves was declared in January, including gold at Fetekro, a prospect in Côte d'Ivoire.
Endeavour mines exclusively in West Africa which has drawn criticism it is exposed to too much political risk. Coups have occurred in Mali, Guinea and Burkina Faso in the past 18 months suggesting critics have a point. De Montessus has always tackled this by saying the company's regional experience enables it to manage any situation. That belief, though, may have been tested in March. As well as announcing a handsome final dividend, Endeavour also said it had written down its Boungou mine in Burkina Faso by $246.3m. Heightened security risks at the mine prevented geologists from conducting field studies which meant Endeavour was unable to beef up its reserves and resources for the mine.
LIFE OF SÉBASTIEN
De Montessus took over from Endeavour founding CEO Neil Woodyer in 2016 as a precondition of Egyptian entrepreneur Naguib Sawiris' takeover at that time. De Montessus was previously head of mining for Areva, France's nuclear reactor manufacturer, where he won headlines for ordering the investigation into its botched $2.5bn takeover of UraMin. De Montessus resigned from Areva, ending a 10-year stint trying to draw a line under the imbroglio. He has a background in investment banking and is a graduate of Paris's ESCP Business School.
More Rainmakers & Potstirrers