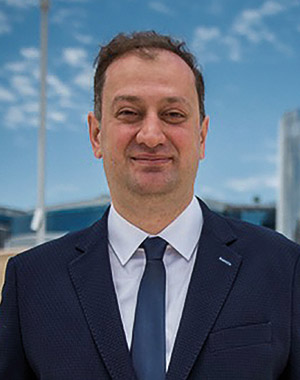 Vuslat

Bayoğlu
MD: Menar Holdings
[Diversification] ... will place our company in a different league. We will become a medium-sized manganese miner in sync with the world's decarbonisation.
VUSLAT Bayoğlu has held the candle for South Africa's thermal coal sector through the years. However, the opening in mid-2021 of a manganese mine, held through Menar subsidiary Sitatunga Resources, seems like an important departure for the privately held company. According to Bayoğlu, East Manganese in the Northern Cape will be the first of other non-coal acquisitions in a diversification strategy that aims to capitalise on China's demand for steel. Iron ore and chrome deals are being sought especially where turnaround expertise and capital is required. An additional manganese deal is in the works that will dwarf East Manganese and help establish Menar as a medium-sized manganese investor, says Bayoğlu.
In the meantime, the company hopes to extract on-the- ground knowledge of the sector via East Manganese, hence Sitatunga's willingness to take on a short, two-year life of mine (producing at about 30,000 tons a year). As for coal, Bayoğlu insists the fuel is a critical pathway to decarbonisation if only because it provides South Africa's state-owned utility, Eskom, with cost-effective power through which it can buy renewable power. Bayoğlu is also holding out for clean coal technology that he believes can boost thermal coal's investment case. Menar owns most of its thermal coal through Canyon Coal in partnership with commodity trader Mercuria.
Canyon Coal is pressing ahead with the development of the 300,000 tons a month Gugulethu (formerly known as De Wittekrans) project in Mpumalanga province as well as another in Gauteng, the 600,000 tons a month (ROM) Bekezela project, which will give life extension to Canyon Coal's Ukufisa colliery. Elsewhere in its portfolio, Menar-owned Kangra started mining at Udumo, a new underground adit west of existing mining at Kangra. The adit accesses the Kusipongo resource which has an estimated coal reserve of 41.9 million tons and could extend the mine by more than 20 years. Menar also operates the Zululand Anthracite Colliery in KwaZulu-Natal province.
LIFE OF VUSLAT
The founder of Canyon Coal, Bayoğlu was born in Erzurum, Turkey. He holds a BSc Honours in mechanical engineering from the Middle East Technical University. Soon after moving to South Africa in 2002 he became involved in the local coal industry. Unlike the CEOs of many unlisted junior coal miners, Bayoğlu understands the value of communication and, apart from ensuring employees get regular newsletters, he has funded training courses for mining journalists. His hobbies are collecting model cars and aeroplanes.
More Rainmakers & Potstirrers