Menar Holdings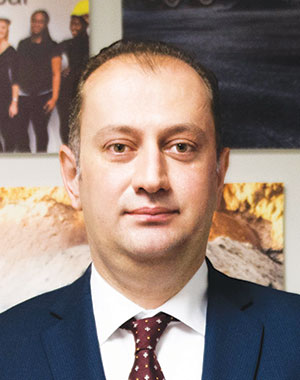 South Africa's mining sector is short of new investment, but one company that doesn't appear to be hedging its bets is Vuslat Bayoğlu's Menar Holding, a business headquartered in Luxembourg but with its feet planted on African soil. Last we heard of Bayoğlu, there were plans to grow coal production to 10 million tonnes annually. Things have changed, however. Following some quick-fire 'deal-making' in 2018, Menar is now eyeing 20Mt annual in output – a leap in presence that will require R3bn in spend over the next four years. Structurally, Bayoğlu runs a sprawling mini-empire of firms. One is Canyon Coal held in a 50:50 joint venture with Singaporean commodities trader Mercuria. Handily, Mercuria brings its balance sheet in return for first rights on new projects or acquisitions Canyon Coal may find. It's for this reason, incidentally, there's no pressure on Bayoğlu to list and why the lack of funding for coal is a source of business 'beauty' to him. Canyon owns Mpumalanga thermal coal projects and it's where most of the current production growth comes from, but Bayoğlu also established Sitatunga Resources. It's through this company the Braakfontein (now Zimpande) colliery was bought from Wescoal. Sitatunga also represents Menar's first foray out of coal with the acquisition of East Manganese, a prospect in the Northern Cape. A third company, Sibambene Coal, represents Menar's transformation-related activities. In addition to thermal coal and manganese, Bayoglu has also made incursions into anthracite coal market, buying Rio Tinto's Zululand Anthracite Coal and Riversdale Anthracite Colliery.
"The beauty is that there isn't much funding for coal."
LIFE OF VUSLAT
Born in Erzurum, a city in eastern Anatolia, Vuslat 'Vusi' Bayoğlu was educated at Orta Doğu Teknik Üniveritesi from 1992 to 1997 where he graduated with a Bachelor of Applied Science in mechanical engineering. Bayoğlu drives a Porsche Panamera and collects model cars and aeroplanes.