Department of Energy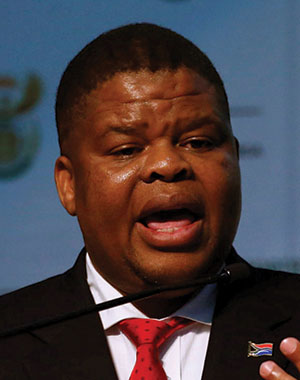 DUBBED 'President Jacob Zuma's Rottweiler' by veteran journalist Max du Preez, Mahlobo's deployment from minister of state security to energy in 2017 has been interpreted as a strategy to push through a controversial nuclear deal with Russia's Rosatom. The Sunday Times reported that Mahlobo was handpicked by the Russians to take the role – inspiring Democratic Alliance MP David Maynier to nickname the minister 'Mahlobovic'. Various non-governmental organisations have expressed concern that he is rushing through the updated integrated resource plan (IRP), the country's roadmap for electricity planning that envisions 20% of local power supply to come from nuclear by 2030, without allowing for proper public consultation. This is likely to lead to renewed court action to halt the nuclear deal. Critics are particularly concerned that the new IRP doesn't take sufficient notice of the way in which renewable energy costs and technologies have improved in recent years, thereby unfairly capping its contribution at the 9% decided on in the 2010 IRP. Mahlobo has already come under fire for delays in signing power purchase agreements with 27 independent renewable energy suppliers. Civil society is also expected to closely scrutinise any gas import or exploration deals, particularly with the Russians, and the investigation into the controversial sale of 10.3 million litres of the country's strategic fuel reserves at rock-bottom prices in December 2015 and January 2016.
LIFE OF DAVID
Mahlobo became politically active as a student at the University of Zululand, where he studied microbiology and biochemistry. Rising through the ANC's ranks in South Africa's Mpumalanga province since the 1980s, he became a member of the ANC's national executive committee in 2012. A close confidant of President Jacob Zuma, he was appointed state security minister in 2014.