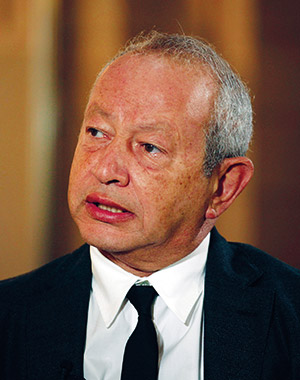 Naguib

Sawiris
Chairman: La Mancha Resources
We're trying a bit to diversify into other metals near gold. We're looking at nickel and zinc and titanium and lithium – battery metals.
NAGUIB Sawiris has a long-established reputation as a gold bull, but 2021 signalled a change in tack for the Egyptian billionaire. In July, he established a $1.4bn mining fund – called simply La Mancha Fund - by reallocating capital from La Mancha Holdings, the company that helped found Endeavour Mining in Africa and Evolution Mining in Australia. In addition to seeding gold mining juniors, La Mancha Fund is also evaluating battery metal prospects as Sawiris believes his investments are too heavily exposed to gold.
Perhaps his view is informed by La Mancha Holdings' decision to quit its 35% stake in Golden Star Resources, another African gold miner in which it bought a 30% stake for $125.7m in 2018, later increasing the holding to 35%. After nearly three years of trying to stage a turnaround, Golden Star announced in November it would sell its Ghana gold mines to China's Chiefeng Gold Mining for $291m. Including an additional stake bought by Chiefeng's unnamed co-investor, Golden Star was dispatched for $470m compared to a then market value of $520m. In essence, Golden Star couldn't make a decent fist of either running or selling its Bogos-Prestea operation although it managed to set its other mine, Wassa, on an expansion path of 294,000 ounces a year compared to 168,000 oz in production in 2020.
Chiefeng's president Lu Xiaozhao promised to "invest significant financial and human capital" into Golden Star. We shall see how that progresses this year. Despite announcing plans to diversify his investments, Sawiris remains hopeful the Egyptian government will award five new goldprospecting to Altus Strategies, the UK-listed firm in which Sawiris is invested. He also expressed an interest in Sudan's gold mining sector, saying he was "... not frightened by the political risks or the turmoil there".
LIFE OF NAGUIB
He received a Masters' degree in Technical Administration from the École Polytechnique Fédérale de Lausanne and a Diploma in Mechanical Engineering from German Evangelical School in Cairo. Never far from controversy, he remains staunchly encouraging of liberal democratic uprising in Kashmir and Hong Kong. He also thinks Egypt needs to separate religion from the state, but has ruled out a return to political life s dabbled. He helped found The Free Egyptians party during Egypt's uprising in 2011.
More Rainmakers & Potstirrers