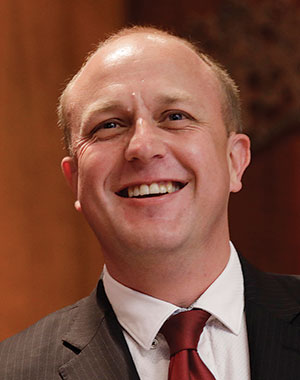 Anthony

Viljoen
CEO: AfriTin Mining
We believe that the Damara Belt has huge unexplored potential to become a new-technology metallogenic province of global significance.
ANTHONY Viljoen is getting increasingly excited about the area in which AfriTin is operating. It is known as the Damara Belt, a long-explored geology that runs from Botswana in the northeast to Karibib in the southwest, and which has a recent history in gold production. According to Viljoen's statements – see the quote below – metals other than tin can be mined from the region. Naturally, this is bumper news for Namibia, a country shorn of income from its mainstay tourism industry during the Covid-19 scourge.
Then again, AfriTin's investment case doesn't need much more building. From humble levels of $12,000/ton two years ago, the price of tin has tripled. This gives enormous va va voom to Uis, its tin concentrate mine currently in the throes of a phase-two expansion, due for completion in the second quarter. Once finished, Uis will have 1,200 tons of tin output from 750,000 tons today. It also produces tantalum and lithium, the latter incredibly popular among investors for its application to electric vehicle batteries.
£4.5m in funds secured in a senior loan with Standard Bank Namibia in September, coupled with a £13m issue of shares in May last year, gives AfriTin the firepower to expand Uis's tin production as well as build a lithium beneficiation plant. Testwork on Uis potential for other minerals demonstrated a 4% lithium oxide content. It's all good news so far for Viljoen's AfriTin, which is steadily proving the doubters wrong.
LIFE OF ANTHONY
Viljoen was a founding member of VM Investment Company, established in 2006 to target opportunities in primary industries. VM's investments include MRT Group, which bought the NiMag assets from Coal of Africa, as well as gold exploration assets in East Africa. He was also founding director and CEO of Lemur Resources and sits on the board of Bushveld Minerals. Viljoen comes from a well-known family of geologists, who have provided technical assistance: his father is Prof Richard Viljoen and his uncle was the late Prof Morris Viljoen. Viljoen holds a Bachelor of Business and Agricultural Economics degree from the University of KwaZulu-Natal, and a postgraduate diploma in finance banking and investment management. He has worked for Deutsche Bank, Barclays Capital in London and Loita Capital Partners, a pan-African investment bank.
More Rainmakers & Potstirrers