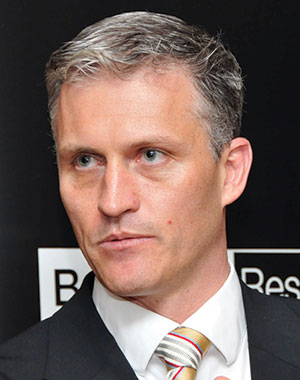 Leon

Coetzer
CEO: Jubilee Metals
"It is not often that one finds oneself in a unique space, positioned to make a difference on a global scale."
LEON Coetzer has been with Jubilee Metals - formerly Jubilee Platinum - probably for longer than he cares to remember since leaving Anglo American Platinum. He has been running the show since 2010, when he was promoted from MD of smelting and refining to replace Colin Bird as CEO, with Bird shifting to chairman. Over this period, the Jubilee share price has underperformed horribly despite the recent partial recovery. On the London Exchange the Jubilee share price dropped from 50 pence in June 2009 to below 2p in 2014 and it bumped along at those levels until about August 2020, since when it has risen to levels around 16p.
Jubilee promptly took advantage of that to raise £30m to pay for a diversification into Zambia but, overall, that performance is in the same league as another notorious junior mining dog - Pallinghurst/Gemfields. (Its value went through the floorboards shortly after listing and is still underwater despite a recovery to around 300c after Assore bought a significant stake last year.) For much of Coetzer's watch, the story at Jubilee was about developing the Tjate platinum mine and commercialising the Conroast technology for smelting chrome-rich platinum fines. Now it's all about being a diversified metals recovery business treating mine tailings, waste, slag and slurry materials.
With profits being made from the copper operations in Zambia and the chrome and platinum operations in South Africa, Jubilee says it is now planning a "global roll-out strategy" to address the "vast" international opportunities available to the company. Hopefully, the reality of what is to come will measure up to the hype from the company.
LIFE OF LEON
Coetzer is a metallurgist by profession, holding a degree in chemical engineering from Stellenbosch University. He spent some 16 years with Anglo American Platinum before joining what was Jubilee Platinum, which changed its name to Jubilee Metals in 2017. His management style is low-key, but he has become more vocal lately as Jubilee's strategy starts to take shape, assisted by helpful PGM prices.
More Rainmakers & Potstirrers