Minisyer: Mineral Resources: South Africa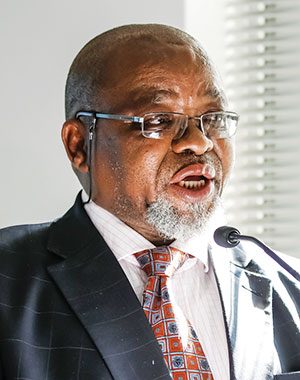 Gwede Mantashe added energy to his mining portfolio in 2019. This is probably appropriate as the gruff former trade unionist and ANC heavyweight is a champion of coal, which he has repeatedly said will be a key part of South Africa's energy mix for some time. That is not winning him any friends among conservationists, but coal does provide about 85% of South Africa's electricity, so it is hardly going to be eliminated overnight.
He also championed the "mineral" hazenile at the Africa Down Under mining conference in Australia. Unfortunately, no such mineral exists – it was the product of an April Fool's joke in a spoof online article which someone among the Minister's staff did not get. Capacity clearly remains an issue at the now expanded ministry.
On the policy front, Mantashe's version of the Mining Charter, while hailed as a vast improvement over the one cooked up by his predecessor Mosebenzi Zwane, still faces legal challenges from the Minerals Council. Mantashe's ministry has also overseen the crafting of a Petroleum Amendment Bill (PAB) as the government seeks to attract investment to offshore and onshore developments. These include the Brulpadda block 275km south of Mossel Bay, which Total discovered in 2019. The field could contain a billion barrels of gas. But the draft bill was not ready in time for the Africa Oil Week conference in Cape Town last year, a missed opportunity which highlights how ANC wrangling is slowing down the legislative process, leaving potential investors in the dark.
"SOUTH AFRICA HAS 16 COAL-FIRED POWER PLANTS AND VAST DEPOSITS OF COAL. WE RECOGNISE THAT COAL MUST DISAPPEAR, WHICH IT WILL OVER TIME, BUT IT WON'T BE SOON."
LIFE OF GWEDE
The veteran trade unionist and politician holds the questionable distinction of his name being verbalised, with "mantashed" used as a synonym for flip-flopped, a result of his changing positions during the Jacob Zuma years. One of the country's most powerful people, Mantashe, who played a key role keeping Zuma in power, currently serves as chairman of the ANC.