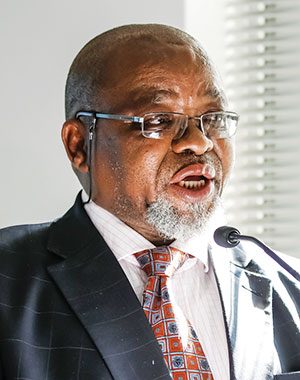 Gwede

Mantashe
Minister: Mineral Resources & Energy
'I have learned not to put time frames on things over which I do not have full control.'
GWEDE Mantashe deserves credit for helping to reopen the South African mining sector early from the initial hard lockdown imposed by government in the teeth of Covid. But he has overseen dysfunction at the Department of Mineral Resources and Energy (DMRE), which includes logjams in the application process for various mining rights.
A tender has been issued for a cadastre to replace the useless Samrad application system, but despite the urgency in the face of a dying exploration sector, the process is dragging on. Mantashe admitted the cadastre was snared in bureaucratic red tape and then went further by saying he'd given up trying to impose deadlines on government projects having previously said it would be completed by year-end. It needs to be done before exploration can truly take off which is still the Government ambition based on an exploration strategy document it issued in April which also called for private sector partnerships. The goal is to capture $900m worth of global exploration spend in five years.
In terms of his energy brief the news has been mixed. Mantashe courted controversy by awarding a 20-year 'emergency' power contract to the Turkish-led Karpowership SA consortium, which offers a ship-based gas turbine solution. Then in April, he opened up bids for some 2,600MW in renewable power supply which comprises the so-called 'Window 6' of government's energy programme.
In other events, Mantashe made greens see red with his steadfast support for coal and obvious aversion to green energy, which goes against the grain of wider government policy, creating confusion. He dismissed objections by environmental activists to a seismic survey being undertaken by oil major Shell on South Africa's mostly pristine wild coast as "apartheid and colonialism of a special type, masqueraded as a great interest for environmental protection".
LIFE OF GWEDE
Gwede Mantashe cut his teeth in the trade union movement with the National Union of Mineworkers (NUM), which he formerly headed. A former miner himself, he represented NUM at the Matla coal colliery in the early days, and appears to have retained an attachment to the fossil fuel. A former general secretary of the ANC, he currently serves as the party's chairman, making him part of the party's powerful but divided 'Top Six'.
More Rainmakers & Potstirrers