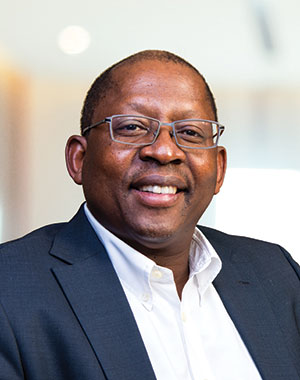 Leapeetswe

Molotsane
Interim CEO: Resource Generation
The company is appreciative of the continued financial support from Noble.
Call us cynics if you must, but it looks like it's finally game over for Resource Generation (Resgen) in its attempt to develop the Boikarabelo coal mine on the Waterberg coal field near Lephalale. Management has not yet thrown in the towel and has managed to persuade long-suffering backer Noble Resources to extend yet another financial lifeline to keep the company going through to end-February 2021. During this time, Resgen management will carry out "a strategic review of alternatives aimed at ensuring the continued financial health of the group along with development of the Boikarabelo project." 'Ja, well, no fine' would be the appropriate disbelieving South African response to that. .
For the record, that was the ninth deed of amendment to the Financial Facility agreement originally dated March 2014. Resgen has been struggling for more than five years to get the R4.2bn finance it needs to build the mine. There has been delay after delay in getting lenders to commit to the complex funding package during which time Resgen has been propped up by Noble which - as a commodity trading group - clearly sees strategic benefits in having priority access to production from that mine. Resgen has been hamstrung by rising negative sentiment against new coal mines which has caused many banks and institutional lenders to rule out making 'old energy' investments. .
Also, potential funders have been put off by the ongoing uncertainty over changes to South Africa's mining charter whilst the company has struggled with a negative perception over the fundamental feasibility of a junior coal mine being started up in the Waterberg. Analysts have long held that only 600 pound gorillas like Exxaro Resources have the technical expertise and deep pockets required to operate there. What looks like the final blow to the project was delivered in October when the Industrial Development Corporation (IDC) pulled its support for the mine on the grounds that "... the market conditions under which the Boikarabelo coal project would operate have deteriorated markedly." The IDC was a key member of the lending syndicate that was going to provide the R4.2bn debt and equity funding needed.
LIFE OF LEAPEETSWE
He's had a long business career including stints as CEO of Telkom and a group executive at Transnet. He was CEO of food business Fedics for four years and previously spent two years as a sales manager at Eskom in the 1990's. He was an independent non-executive director of Resgen who was appointed interim CEO in March 2018 after predecessor Rob Lowe stepped down. Lowe, in turn, had been appointed to replace former CEO Paul Jury who was removed through a corporate revolt in November 2015. At the time Lowe's priority was stated to be to "assist with the delivery of a debt-funding solution for consideration by the board."
More Rainmakers & Potstirrers