Founder: Frontier Services Group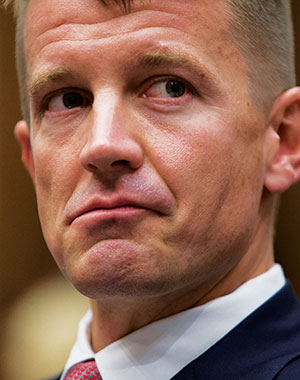 An update on Erik Prince's plans, made public in early 2019, to establish a $500m fund to explore mineral resources in Africa has not been forthcoming. That's not to say the former US Navy Seal has been sitting on his hands, however. On the contrary, speculation has been rife regarding Prince's increasing co-operation with China to protect the industrial giant's interests in the DRC and Venezuela (where Prince and former JP Morgan banker Ian Hannam have allegedly co-operated).
In June, Prince registered a subsidiary in the DRC with the aim of "... the exploration, exploitation and commercialisation of minerals", as well as forest logging, security, transport construction and "all financial investment and project financing operations, both public and private". If that sounds pretty all-encompassing, then it certainly has the imprimatur of Prince. China's sway in the DRC certainly seems to be increasing. Gecamines chairman, Albert Yuma, recently praised China Nonferrous Metal Mining Company for its progressive nature of its joint venture in respect of the recently opened Deziwa copper and cobalt mine.
For Rainmakers & Potstirrers, Prince is proxy for the invisible hand of sovereign interests throughout Africa's tenuous political matrix. Prince has repatriated the bodies of Chinese executives killed in a 2015 attack, supplied Chinese state-owned companies with bauxite from Guinea, and even owns a large logistics company in South Africa's Gauteng province. Prince, who has strong links to the US government (he is the brother of Betsy DeVos who is US Secretary of Education in President Donald Trump's administration) has gone quiet pretty much the same time the US government fell into trade conflict with China – a crisis followed by the impeachment of Trump on claims of his political machinations.
"I AM A BUSINESSMAN, NOT A POLITICIAN, BUT I AM ALSO A PROUD AMERICAN WHO WOULD NEVER DO ANYTHING AGAINST MY COUNTRY'S NATIONAL INTEREST."
LIFE OF ERIK
Son of the late US billionaire industrialist, Edgar Prince, and a US Navy Seal lieutenant, Erik Prince won fame and fortune with Blackwater USA, a private military contracting firm he founded which operated in Afghanistan and Iraq. The business was sold in 2010 leaving Prince to found Frontier Services Group which provides security in unstable countries, but he has also dabbled in mining and exploration. Prince provided informal advisory services to Donald Trump during the US president's successful election campaign. He is married with seven children.