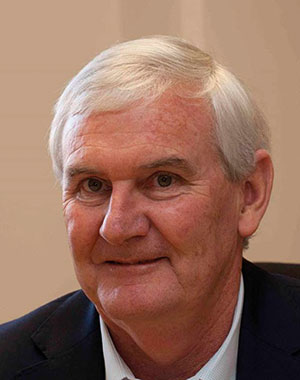 Steve

Curtis
CEO: Caledonia Mining Corporation
"Now that the central shaft is complete, the company can focus on de-risking the business from being a single-asset producer."
STEVE Curtis will bow out this year, ending 14 years at Caledonia, of which eight were spent as CEO. It's fair to say it'll be a case of 'job done' when he departs. Back in the early 2000s, Caledonia displayed basket-case characteristics as management squabbled. Since 2014, however, it's been a steadier ship. Take for instance its uncanny ability to steer a course through the national disaster that was the final years of the Robert Mugabe administration, ending in 2017. The key to Caledonia's success has been its narrow focus on its single asset, the Blanket mine situated in south-west Zimbabwe, including its $60m expansion to 80,000 ounces annually through the extension of the mine's Central Shaft.
That expanded capacity will be reached this year, resulting in a healthy 20% year-on-year gold output lift. Increased production also coincided with a run in the gold price, enabling Caledonia to double the dividend in two years, the last being a 14 Canadian cent per share pay-out. The focus now falls on asset diversification. Speaking at an investment conference in 2020, Curtis said Caledonia was shooting for 350,000 to 500,000 oz/year in production. It looks a chunky ambition, but a start has been made.
Last year the company announced the $4m acquisition of Maligreen, a mothballed mine in Gweru district. The mine produced 20,000 oz/year for two years to 2022 under previous owners. Mark Learmouth, Caledonia's current CFO and often the go-to spokesperson for the company, will take the reins from Curtis in June. That'll possibly see more aggressive expansion. It was Learmouth who once floated the notion of international expansion for Caledonia before deciding to keep the sights on Zimbabwe. In November, the company listed shares on the Victoria Falls Stock Exchange, raising $8m in the process.
LIFE OF STEVE
Although he has held the tiller steady at Caledonia through some interesting times, Curtis has never been one to hog the limelight. "This is not a one-man show," he once said. On his watch, the company hasn't only been about profits, either. He's presided over a generous empowerment arrangement, managed to run over two million fatality-free shifts in 2021, and reduced lost time from injury rates by more than 50%. Prior to joining Caledonia, Curtis was financial director for Avery Dennison SA. He graduated with a business degree from the University of Cape Town.
More Rainmakers & Potstirrers