CEO: Eskom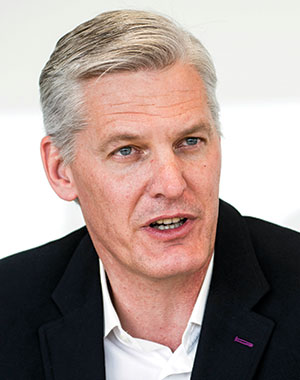 Why would anyone want to be CEO of the sinking electricity utility, Eskom? One plausible explanation for De Ruyter's decision to take the job is patriotism. But it is a hideous responsibility. It's no hyperbole to say the entire South African economy depends on De Ruyter's ability to get Eskom back on the rails.
So desperate was the South African government, when renewed load shedding hit the economy just as factories were trying to fulfil orders before the holiday shutdown (and rose to an unprecedented stage 6), that it begged De Ruyter to start earlier than the agreed date. And so to the job at hand for De Ruyter: getting generation right is the first step. And vying for equal attention in the in-tray is tackling the culture of corruption and incompetence at Eskom.
He must also oversee restructuring the company's R450bn debt pile and unbundling the utility into separate generation, transmission and distribution units. Fixing Eskom will be a huge challenge, but it's not impossible provided union and government interference is minimised. (Co-operation will be even better). That might be difficult though.
On one side is the communist apparatchik and Public Enterprises Minister, Pravin Gordhan; on the other, the unions to which South African President, Cyril Ramaphosa, is partly beholden for his tenuous grip on power. It's instructive that even by mid-December, the National Union of Mineworkers was insisting De Ruyter deal with them directly, fearing perhaps he would immediately tackle Eskom's over-staffing problem. We think this will be the first battle De Ruyter must pitch. Interestingly, in his last message as Nampak CEO, De Ruyter said: "In the absence of economic growth to drive demand in our key markets, we have no option but to address our cost base to ensure we remain competitive."
"WE HAVE NO OPTION BUT TO ADDRESS OUR COST BASE TO ENSURE WE REMAIN COMPETITIVE."
LIFE OF ANDRE
The ripping of rug from under his feet began as soon as the Eskom appointment had been announced. His task, as CEO of Nampak, was to tackle R5.7bn of debt and turn around the ailing operations. He tackled the debt, but operating conditions in Africa are tough and Nampak's share price has continued to wallow. He previously headed Sasol's chemicals operations, where he was highly regarded. However, by mid-December a forensic report had been leaked to the media alleging De Ruyter had made unauthorised share sales while at Sasol. He studied at the University of Pretoria and holds an MBA from Nyenrode Business University in the Netherlands, as well as a masters' degree in law from Unisa.