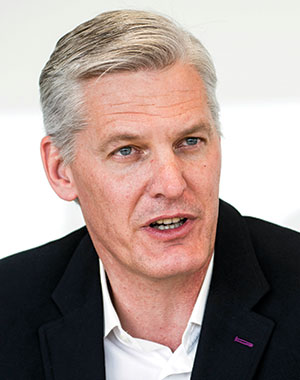 Andre

De Ruyter
CEO: Eskom
"We can't harken back to some glorious past where we are this monolithic supplier of last resort that can keep the lights on no matter what."
A DEEP reservoir of patriotism must be keeping André de Ruyter as Eskom's CEO - a role that must rank among the most challenging and thankless in the South African sphere of public service. Already an anachronism in a world heading towards zero carbon and decentralised energy supply, Eskom has the added disadvantage of extraordinary legacies that include an ageing fleet and endemic corruption. There's also its mountain of debt, which at R402bn was at least R82bn less than the prior year. Reform is the key, but progress following South African President Cyril Ramaphosa's edict to unbundle Eskom into generation, transmission anddistribution divisions, has been slow.
There are green shoots, however. Eskom contained primary energy inflation to 6% last year, while De Ruyter has been quick to replace maladroit staff. Government's decision to increase the threshold for unlicensed self-generated power to 100MW will ease pressure on Eskom while plans by the UK, US and European Union to incentivise the decommissioning of Eskom's coal-guzzling fleet with R130bn in loans is a step in the right direction. In another show of intent, some 36 000 hectares of land in Mpumalanga province was opened for renewable power. An additional 800MW of power from the Kusile power station has also been added to the grid, although, to be honest, power rationing – known in South Africa as load shedding - is set to continue. De Ruyter warned of a 4 000MW power deficit going forward, which raises the risk that 2022 could see a repeat of the 47 days of rolling blackouts of 2021.
Ultimately, Eskom's future will be driven largely by political will: ANC support has hardly been uniform. And it was unhelpful that Finance Minister Enoch Godongwana observed that de Ruyter's predecessors were not allowed the "luxury" of taking units offline for maintenance.
LIFE OF ANDRE
De Ruyter has the distinction of being Eskom's tenth CEO in as many years. By training, he is not an engineer but a lawyer, with a BA from the University of Pretoria, an LLB from Unisa and an MBA from Nyenrode University in the Netherlands. His first and longest employer was Sasol, where he was credited with turning around the Olefins and Surfactants business. From there, he became CEO of Nampak, where he worked with former finance minister Tito Mboweni, who was the chairperson at the time. Mboweni presumably recommended him for the Eskom post – or talked him into it.
More Rainmakers & Potstirrers