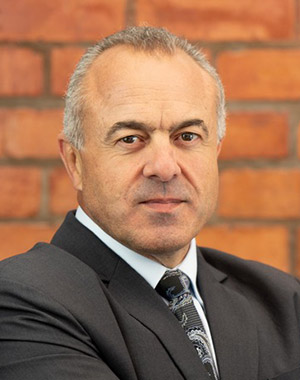 Johan

Ferreira
CEO: Khoemacau Copper
Having met all of our original commitments, we have undoubtedly delivered a great project for Botswana, notwithstanding the challenges we encountered.
WE said in last year's Rainmakers & Potstirrers that Johan Ferreira's Khoemacau Copper was entering a make-or-break year, and so it's proved. The good news is that Botswana's trailblazing copper development and exploration firm has managed to get its Khoemacau mine into motion and begin the process of ramping up to full production, most likely in the first quarter. Khoemacau has a resource base of 186 million tons (Mt) of ore grading upwards of 2% copper in the measured, indicated and inferred categories, and initially intends to produce around 60,000 tons of copper and two million ounces of silver annually. And so far, so good.
Despite the vagaries posed by the Covid-19 pandemic, the project was brought into production in line with the pre-pandemic schedule, with Khoemacau having raised $650m in finance in 2019. Getting to steady-state production this quarter is no mean feat but given that an underground copper-silver mine has no precedent in Botswana, and that all know-how either must be brought in or nurtured from the ground up, it's not surprising that CEO Ferreira declared himself well pleased with his team's efforts.
All-in sustaining costs are likely to come in at around $1.75 per pound of copper, net of a silver credit. Given that the current copper price is comfortably north of $4/lb, that points to significant early positive cashflow. With the initial stage of the project now successfully establishing itself, the focus now turns to expansion. The plan for the medium term is to expand output to 130,000 tons of copper and more than five million ounces of silver per year. In the longer term, the idea is to boost that still further, to 150,000 tons of copper and six million ounces of silver.
LIFE OF JOHAN
Ferreira spent more than 17 years with AngloGold Ashanti, ending his time there as senior vice president, Operations. He moved on to become a senior figure in Newmont Mining's Africa operations. He also did a stint at Anglo American. Ferreira attended the Kellogg School of Business in Chicago in 2010. For relaxation, he takes to his Harley D avidson.
More Rainmakers & Potstirrers