Acting CEO: Transnet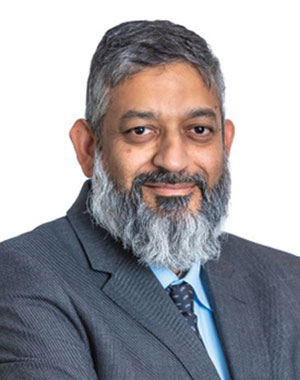 As acting CEO of state-rail monopoly, Transnet, Mohammed Mahomedy has the job of unravelling years of corruption, bad business decisions, and poor asset allocation. First prize for Transnet would be to keep the highly qualified Mahomedy in the role he's made his own. One of the major tasks is extricating Transnet or reducing its exposure to deals to procure 1,064 locomotives set in place by former executives who, according to a spate of media reports at the end of 2019, are allegedly facing arrest on charges of corruption, money laundering and racketeering.
One of Mahomedy's wins has been an agreement signed with Regiments Capital that it repay R180m. The money was for fees related to consultation contracts around the locomotive procurement process that involved four major international companies, also known as original equipment manufacturers (OEMs). Regiments is closely linked to the Gupta family, which itself is alleged to be at the heart of the capture of large South African state-owned companies and siphoning off billions in rands to benefit themselves, senior politicians and government officials, as well as executives of the companies being looted.
While there are calls for Transnet to open its rail network to private companies, Mahomedy has firmly rejected that as an option. While the main iron ore and coal lines are functioning well and manganese exports are moving on rail, the key railway line linking the port of Durban to Johannesburg remains a bottleneck and will need Transnet's full attention. More confidence in the rail system needs to be fostered to encourage the transition of cargo off road to rail and this, outside of dealing with the rot in Transnet, is one of Mahomedy's critically important challenges.
"RIGHT UP FRONT, WE MADE THIS VERY CLEAR ... THAT THESE CONTRACTS WERE DEEMED IRREGULAR AND UNLAWFUL AS THEY HAD NOT FULFILLED CERTAIN PROCUREMENT PROCESSES."
LIFE OF MOHAMMED
Mohammed Mahomedy has a Bachelor of Accounting Science from University of KwaZulu-Natal and is a chartered accountant. He's been on various management programmes, giving him auditing and Accounting skills necessary to clean up Transnet. He was appointed to the Transnet board in May 2018.