President and CEO: Newmont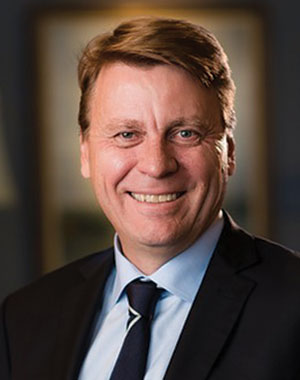 Tom Palmer took the reins as CEO at the recently rebranded "Newmont" in October last year. In truth, it was a mere move of office as Palmer was previously COO to which about 85% of Newmont's workforce reported anyhow. His appointment, however, ought to usher in a more serene period – maybe – for the group following the explosive game of chicken played by predecessor Gary Goldberg and Mark Bristow. Bristow, the CEO of Barrick Gold, attempted to force a merger with Newmont Mining, as it was then named. In the end, the two sides opted for a joint venture over their Nevada operations which may well have been Bristow's ultimate game.
That's all history now; at least we think so, as the two sides have called an entente on mutual business activity until March 2021. In the meantime, amid a vaulting dollar gold price and industry consolidation afoot, there's much to occupy Palmer, including Newmont's African operations – the Ahafo and Akyem operations in Ghana.
The assets tend to fly under the radar, but it's worth acknowledging they are very significant mines with each producing more than 400,000 ounces of gold annually. A $175m mill expansion at Ahafo in Ghana achieved commercial production in October and is expected to push the mine's average annual gold production to between 550,000 and 650,000 ounces through to 2024 while also extending profitable production at Ahafo through to at least 2029.
"I CONTINUE TO BE ENCOURAGED BY AHAFO'S AND GHANA'S MINERAL PROSPECTIVITY AND THE POTENTIAL FOR ONGOING, PROFITABLE GROWTH."
LIFE OF TOM
He's an engineer by profession holding a Bachelor of Engineering degree and a Master of Engineering Science degree from Monash University in Melbourne, Australia. Before joining Newmont, he spent 20 years with Rio Tinto where he became COO at the group's Pilbara iron ore mines in western Australia. Prior to that, Palmer held a number of positions with Rio Tinto including GM technology for the bauxite and alumina business; GM operations at the Hail Creek coal mine; and GM asset management Palabora Copper in South Africa. He served in various senior vice president positions after joining Newmont before being appointed COO in May 2016.