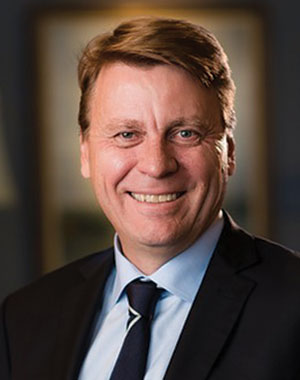 Tom

Palmer
CEO: Newmont Mining
The development of this prolific orebody will leverage our proven operating model and will be supported by our existing world-class Ahafo South operation.
THE reason why the boss of Newmont Mining, a predominantly 'Americas' gold production company, gets a place in the African-focused Rainmakers & Potstirrers is simply down to the scale of the firm's Ghana mines: Ahafo and Akyem. Expected to produce 1,05 million ounces of gold this year, the two mines comprise roughly 16% of the behemoth's total gold production. What's more, CEO Tom Palmer announced in July the group would spend between $750m and $800m expanding production of Ahafo through its Ahafo North project.
Although the announcement had been well flagged last year, it's worth considering the expansion will create 1,800 jobs in construction and 550 permanent jobs once completed, which is expected to be at the tail-end of 2023. Once in commercial production – at the beginning of 2024 - Ahafo North will add an average yield between 275,000 and 325,000 ounces of gold a year over the first five years. All in all, Ahafo North has a 13-year life of mine with potential for additional exploration.
Palmer described it as "the best" new gold project on the continent, so there's a lot to live up to as Newmont gets into project execution phase. In the meantime, Ahafo is this year expected to produce 650,000 oz, which is a year-on-year increase owing to improved gold grades from the Subika open pit and increased underground tonnage in the wake of a change in mining method undertaken by Newmont. As for Akyem, it is expected to produce 400,000 oz of gold this year at an all-in sustaining cost of $900/oz, better than the $1,000/oz AISC forecast for Ahafo.
LIFE OF TOM
Palmer is an engineer by profession, holding a Bachelor of Engineering degree and a Master of Engineering Science degree from Monash University in Melbourne, Australia. Before joining Newmont, he spent 20 years with Rio Tinto, where he became COO at the group's Pilbara iron ore mines in western Australia. Prior to that, Palmer held a number of positions with Rio Tinto, including GM Technology for the bauxite and alumina business; GM Operations at the Hail Creek coal mine; and GM Asset Management at Palabora Copper in South Africa. He served in various senior vice-president positions after joining Newmont and before being appointed COO in May 2016.
More Rainmakers & Potstirrers