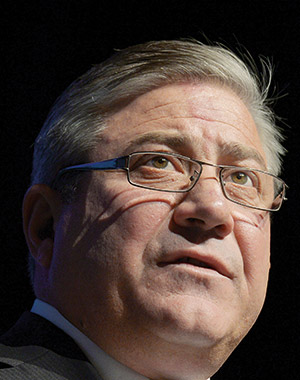 Karl

Simich
MD & CEO: Sandfire Resources
Motheo represents the foundation for Sandfire's long-term growth plans in Botswana.
IT'S been a busy time for Karl Simich and Sandfire Resources. Production at the DeGrussa copper mine in Australia is chugging away nicely and in September the company swooped down and acquired the Matsa mining complex in Spain, raising upwards of A$900m in new money to do so along the way. For our purposes, however, the focus falls on the company's Botswana copper asset, Motheo, where construction is in full swing.
July 7 last year was a key moment as the company received a mining licence for the 30,000 tons of contained copper prospect – the last regulatory hurdle ahead of construction. As part of the mining licence grant, the Botswana government has the right to buy up to a 15% stake, although it hasn't yet signalled its intention to do so. The mine generates 600 full-time jobs and 1,000 during construction. Motheo also bolsters Botswana's drive to diversify its tax-take from diamonds and helps establish its Kalahari Copper Belt as a true new mining district. Sandfire announced last year it was undertaking a study to assess the potential for Motheo's processing facility to be expanded to 5.2 million tons a year (Mt/y) from the 3.2Mt/y plan.
The progress at Motheo, as well as Simich's advances elsewhere in the portfolio, has required Simich to expand the company's staffing, which he announced along with a board succession plan. Sandfire is gearing up for bigger things. Shares in Sandfire Resources have performed well in the past 12 months, driven by strong copper prices. This supported a A$170m profit for the 2021 financial year and 34 Australian cents a share dividend – generated from DeGrussa.
LIFE OF KARL
International business travel is still possible, even when going from Australia and into Europe. Simich's Matsa deal proves that, and although the whole deal was sewn up without a single leak to press or corporate competitors, getting his negotiating team over to Spain and into constructive dialogue may have been the greater achievement in these overly bureaucratic and regulated Covid times. Simich, though, is a seasoned veteran of mining and corporate finance, and knows well enough the intricacies and exigencies required to get a deal done. He's been in his current role since 2009, and if 2021 is anything to go by, there's still plenty of life in him yet.
More Rainmakers & Potstirrers