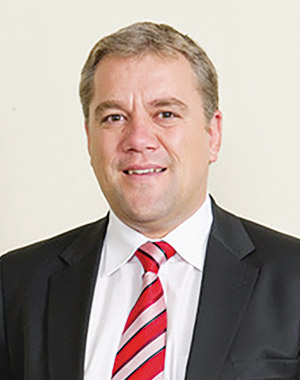 Maritz

Smith
CEO: Alphamin Resources
We find ourselves in a very strong position. We are clearly in the right commodity.
A YEAR ago Alphamin Resources was in discussions with lenders, trying to figure out ways to stop the cash burn at its Congo tin mine, Bisie. Perhaps those discussions were tempered by signs the tin price was reviving. As it happened, the signs turned into an unstinting wave of tin price progression during the course of 2021 until by end-September, the company burst into net cash, and then about three months later announced a maiden dividend of three Canadian cents per share. So complete was the turnaround that Maritz Smith and his team are now taking a breath to consider the firm's long-term options, announcing in November a strategic review.
A wide range of potential choices, large and small, are under the microscope, including the possibility of a balance sheet restructuring such as royalty streaming of production. The discussion remains open-ended, with no timeline on a decision. Behind Alphamin's reversal of fortune is the fact that demand for electronics - which tin serves as the valuable solder or glue between parts – is escalating and even more importantly, supply growth is limited. Set against this, Bisie's Mpama North section grades at 4%, which is high by base-metal mining standards. With the market winds set fair, Alphamin is using the extra cash to fund an exploration project into Mpama South, about 750m from Mpama North.
A drilling campaign late last year concluded Mpama North and South are halves of a single but faulted zone. That bodes well for life extension and possibly production increases. Time will tell. For 2022, the plan is to get Bisie to 12,000 tons a year of contained tin. Smith and former CEO Boris Kamstra (who trod many of the hard yards in Bisie's development) toughed out some difficult mining conditions and a tougher yet market - but how the wheel turns.
LIFE OF MARITZ
Smith is a chartered accountant holding a BCom Honours degree. After gaining his professional qualifications, he entered the mining sector as a financial controller for Metorex. Smith then became a member of the Metorex executive committee and was appointed CFO before resigning to become COO at Pangea - mining entrepreneur Rob Still's operating company. He was appointed CEO at Pangea before taking up his latest position with Alphamin.
More Rainmakers & Potstirrers