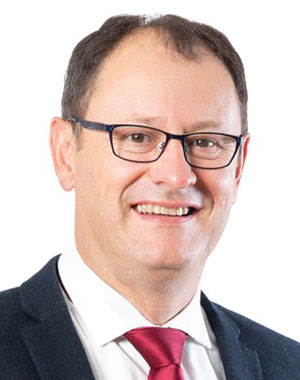 Andries

Van Heerden
CEO: Afrimat
There are so many opportunities that, if any one of them doesn't materialise, there will always be another.
ANDRIES van Heerden has a gift for making acquisitions which he has exercised regularly since 2003, especially when the market is poor. After the 2007/8 financial and economic crisis, Afrimat diversified from South African aggregates into industrial minerals such as limestone and dolomite production. It subsequently bought the Demaneng iron ore mine in South Africa's Northern Cape, Nkomati anthracite in Mpumalanga province, and the three iron ore mines comprising the Coza operations, also in the Northern Cape.
In the wake of the Covid-19 upheavals, Afrimat acted again, concluding two more deals. The first was the Gravenhage manganese project in the Northern Cape, acquired from China's Aquila Steel, which had lost its appetite for South Africa following an eight-year licensing dispute with the Department of Mineral Resources (DMR). The second acquisition was Glenover, a phosphate mine currently in mothballs. Once operational, the mine will supply the agricultural market and produce rare earths – used in the magnet manufacturing process - and vermiculite, which is sold to the horticultural industry. Van Heerden's goal is to make Afrimat a mid-tier, multi-commodity business and he's quite clearly undeterred by South Africa's uncertain operating environment.
He recently acknowledged the DMR for rapidly reopening mines after the first Covid-19 lockdown, and again for its speedy processing of its Nkomati acquisition. However, he is less impressed with the dilatory style of the Department of Water and Sanitation, as well as government's inability to control the mafiosi in the 'business forums', the disarray of local municipalities, and Eskom's costly, unreliable power supply.
LIFE OF ANDRIES
Van Heerden has been CEO of Afrimat ever since it listed in Johannesburg in 2006 following the merger of two quarrying businesses, Prima and Lancaster. He entered the mining industry in 2003, joining Prima Klipbrekers in Worcester, but was fired two years later by a conservative boss who disagreed with his ambitions of industry consolidation. He bought Lancaster Quarry in KwaZulu-Natal province and shortly afterwards Prima agreed to the idea of consolidation. Van Heerden holds a degree in mechanical engineering from North West University and an MBA from Stellenbosch University.
More Rainmakers & Potstirrers