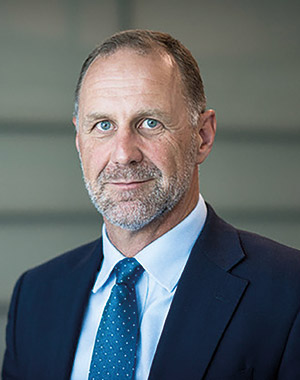 Ian

Purdy
CEO: Paladin Energy
The improving structural outlook for uranium markets and Paladin's opportunity to positively contribute to the decarbonisation of global electricity generation provides the platform for an exciting period.
IT'S a game of patience for Ian Purdy and Paladin Energy, which in November published an update of its plans to redevelop Langer Heinrich, a uranium mine in Namibia. Pre-production capital was confirmed at $81m as per a previous study, but there was a marginal increase in life-of-mine production to 77.4 million pounds (lb) from 76.1 million lb previously. Perhaps inevitably, cash costs increased in line with mining inflation. Langer Heinrich will take 18 months for first production, and then another 15 months before full production is reached. There's a growing confidence that uranium will play a critical role in the world's energy mix.
Not universally loved owing to disposal and capital cost risks, uranium nonetheless remains a reliable energy source for baseload supply. This market optimism is supported by US investment firm Sprott Inc. Its Physical Uranium Fund stockpiled 42 million lb of the material. That's a significant hoard considering that total turnover of uranium in its 2020 spot market was 92.2 million lb. "The demand is assured; the supply is not," pronounced John Borshoff, the mining entrepreneur who founded Paladin in 1993 and grew it into a $4bn company before the uranium price collapsed and left Langer Heinrich in mothballs.
He's now working on three uranium projects in Namibia, held in an Australian-listed exploration company, Deep Yellow. His view is that new uranium supply is in a state of disarray while utilities prepare for new production. In the meantime, Purdy says he remains fixed on extracting "offtake contracts with sufficient duration and value" to underpin Langer Heinrich. This spells good news for the Namibian economy as it has been badly affected over the past two years by the Covid-19 pandemic, which hit its tourism sector.
LIFE OF IAN
Purdy is a chartered accountant with a bachelor's degree in business and commerce from the University of Western Australia. He was recruited to Paladin from Quadrant Energy, where he was CFO. Quadrant is one of Australia's largest oil and gas companies, producing more than 20% of Western Australia's domestic gas production and a significant proportion of Australia's oil. Before Quadrant, Purdy was MD of Mirabela Nickel Limited, an ASX-listed nickel producer operating in Brazil. During his time at Mirabela, the company raised more than $350m in equity and refinanced about $450m of complex legacy debt positions.
More Rainmakers & Potstirrers