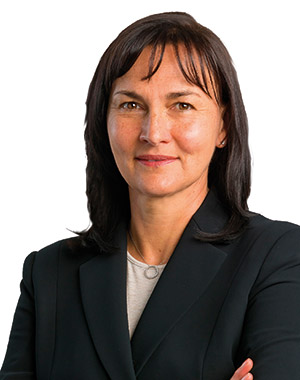 Natascha

Viljoen
CEO: Anglo American Platinum
"Everyone's perception of the Mogalakwena expansion is that it's around a concentrator expansion. The reality is way more."
NATASCHA Viljoen's first full year at the helm of Anglo American Platinum (Amplats) was a bumper one, notwithstanding the processing plant failures, which would have been disastrous in a less accommodating market. Those mishaps are well and truly behind Amplats now following the sale of about one million ounces in platinum group metal (PGM) inventory built up while the refineries were being repaired or rebuilt.
This capped off a very good year for Viljoen and Amplats. For confirmation, look no further than the R33bn special cash dividend the company unveiled in February which took the total payout for 2021 to a very handsome R80bn. Amplats insists the PGM market is in good shape notwithstanding supply chain shocks last year in the key automotive end-market. As if to underline this confidence, Amplats paid out 100% of second half earnings.
The invasion of Ukraine by Russia in February was a different class of shock altogether, however. Despite the market panic, Viljoen believes disruption to palladium flows - in which Russia has 38% market share - would be minimal.
For 2022, mining inflation is an important theme along with the ongoing disruption caused by European geopolitical distress. A specific issue for Amplats is Mogalakwena, its most profitable mine which is due for expansion. Viljoen has been at pains to explain the evolving nature of the project's scope with the latest thinking being that an underground expansion might be a more efficient use of capital than extending the open pit. Viljoen is reticent to talk production numbers whilst six work streams - from potential community disruption to technical innovations - are underway. Suffice to say the expansion was previously expected to deliver 300,000 oz of PGMs - a number Viljoen regards as indicative only. The market awaits more details.
Of more certainty on the expansion front was Amplats' approval of the R3.9bn Mototolo/Der Brochen life extension project, which will see mining there for at least 30 more years.
Amplats has forecast 2022 production of between 4.2 and 4.6 million oz.
LIFE OF NATASCHA
Before Anglo, Viljoen was previously head of processing at Lonmin, a role that was combined with head of sustainability during the time of the Marikana Massacre in 2012. A metallurgist, she is deeply technical and has developed award-winning technology that's energy and resource efficient. Mining is in her veins: her father was a shift manager in Klerksdrop, where Viljoen grew up, matriculating from Hoërskool Klerksdrop in 1987 before studying engineering at Northwest University in Potchestroom. She later earned an executive MBA (cum laude) from the University of Cape Town. She relocated back to South Africa from Australia to take up the position at Amplats.
More Rainmakers & Potstirrers