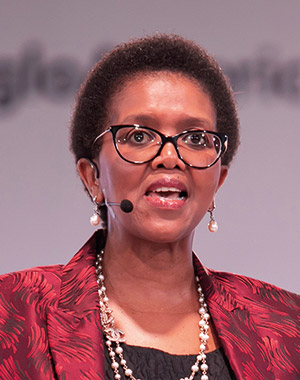 Nolitha

Fakude
Chairperson: Anglo American SA
We saw in 2020 a deterioration in mining's safety performance in terms of fatalities. Worse still, thus far in 2021, we are seeing a further deterioration in the fatality trend. This is not acceptable to us, as the Minerals Council and the industry.
NOLITHA Fakude made history in 2021 when the Anglo American executive was elected president of the Minerals Council SA, the first woman in its 130-year history to take that position. She is also the chairperson of Anglo American's management board in South Africa as well as the group director responsible for South Africa on Anglo's Group Management Committee.
In those roles, she is part of a team that saw Anglo's South African units, Anglo American Platinum and Kumba Iron Ore, post record profits on record prices stemming from the commodities boom.Being a senior Anglo executive in the region is not a bad space to be in at this time. At the council, expect her to leave a mark as an advocate for transformation, diversity and the advancement of women. One of the issues she has taken to heart is the worrying regression in the mining sector's safety record over the past two years, with spiking numbers of fatalities.
Addressing the multi-stakeholder MineSafe Conference in November 2021, she opened her remarks in a poignant manner: "I greet you with a heavy heart. We know we are meeting here today because, over the last two years, we have not succeeded in taking our industry closer to the goal of eliminating fatalities due to mine accidents… We cannot allow the pandemic to be seen as an excuse for the deteriorating safety outcomes. Our goal of zero fatalities cannot be allowed to slip." Expect safety to be at the forefront of her agenda in 2022.
LIFE OF NOLITHA
Fakude has a BA honours in psychology from the University of Fort Hare. In 25 years of career development, described by herself as 'charmed', Fakude moved from Woolworths to Afrox, to Sasol and then Anglo American, where she was a non-executive director from 2017 to 2019. While head of community affairs at Woolworths, Fakude was asked to host at her home in Cape Town the newly appointed cabinet member, Winnie Mandela, for a couple of days (becoming 135 days) following the ANC's landslide inaugural election victory. She is also the chairperson of the Minerals Council Women in Mining Leadership Forum.
More Rainmakers & Potstirrers