Chairperson: Anglo American South Africa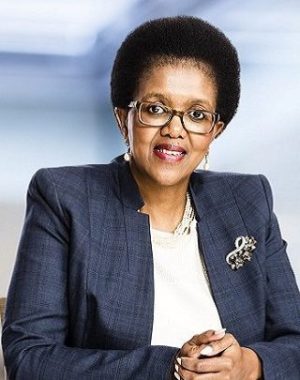 Nolitha Fakude took up executive duties at Anglo American at a time when the group's commitment to South Africa was in doubt, principally by the critical eye of then shareholder, Anil Agarwal, the founder of Vedanta. As a riposte, the appointment couldn't more more apposite given that she was for two years a non-executive director of the parent for two years until 2019.
Fakude brings with her impeccable credentials and gravitas. Deeply rooted in corporate South Africa, she also holds a torch for ambitious black women everywhere. In 2020, she was appointed chairperson of the Women in Mining Leadership Forum established by the Minerals Council South Africa, of which Fakude is also a vice-chairperson. In addition to these direct mining posts, Fakude also has non-executive duties at Sasol as well as its mining division at which she is chairperson. Her memoir, Boardroom Dancing, tells the story of her journey from her childhood as "a shopkeeper's daughter" in the Eastern Cape to a procession of corporate postings.
MY EXPERIENCE AS A LEADER IN BUSINESS OVER THE PAST THREE DECADES HAS TAUGHT ME THAT WOMENS' ASPIRATIONS AREN'T SECONDARY TO THOSE OF MEN.
LIFE OF NOLITHA
Fakude has a BA Hons. in Psychology from the University of Fort Hare. In 25 years of career development, described by herself as 'charmed', Fakude moved from Woolworths to Afrox, to Sasol and - perhaps one pinnacle - Anglo American where she was non-executive director from 2017 to 2019. Whilst head of community affairs at Woolworths, Fakude was asked to host at her home in Cape Town the newly appointed cabinet member, Winnie Mandela, for a couple of days (becoming 135 days) following the ANC's landslide inaugural election victory.