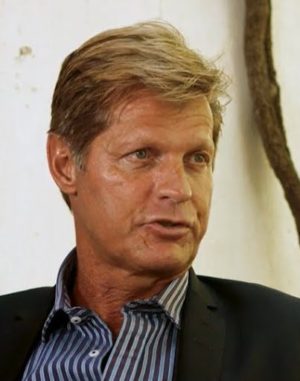 George

Bennett
CEO: Rainbow Rare Earths
Phalaborwa is capable of reaching production of mixed rare earth carbonate faster than any other rare earth project globally.
WHEN South Africa's most famous geologist, Hans Merensky, discovered the phosphate deposits near Phalaborwa which became Foskor, little did he realise he was also planting the roots for a future operation to recover high-tech rare earth minerals essential for the current 'green' revolution. Fast-forward some 90 years and that is exactly what George Bennett intends doing with the 35 million tons (Mt) of gypsum stacks built up as a waste product from the decades of processing phosphate ore. The past year saw considerable progress in the preliminary economic assessment being carried out and Rainbow Rare Earths declared a maiden JORC-compliant mineral resource estimate for the project of 38.3Mt at 0.43% TREO. That's total rare earth oxides, of which neodymium and praseodymium (NdPr) are the most important, being used in magnets for motors and turbines.
The Phalaborwa resource has an NdPr content of 29%. (Better get used to a whole new series of acronyms.) Bennett reckons Phalaborwa can be developed as a low capital intensity project with operating costs near the bottom of the curve. So far all is going well in South Africa but that's not the case in Burundi, where the company operates the Gakara mine. In June, the Burundi government "temporarily suspended" operations, which remain on care and maintenance. The reason seems to be a dispute over the pricing of rare earth exports. Bennett says the company "continues to take a steadfast approach to resolving these issues" and Rainbow held a successful share placing to raise £6.4m in October.
LIFE OF GEORGE
Bennett is by no means your conventional mining executive and started his career by dropping out of Natal University - he's a Durban boy - and getting involved in the rag trade, which was booming around Durban at that time. From there he moved to the JSE in the mid-80s, becoming a partner in Simpson McKie, which was taken over by HSBC in 1998.
Bennett quit HSBC in 2003 and went mining by listing Shanta Gold in London in 2005. He founded the operation for which he is probably best known - the very successful MDM Engineering, which was listed in London in 2008. He sold MDM to global engineering company Amec Foster Wheeler in 2017 for $120m.
More Rainmakers & Potstirrers