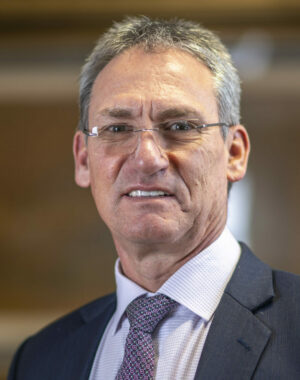 Chris

Griffith
CEO: Gold Fields
South Deep will make some good money. It will compete with other assets if it can get its volumes up.
CHRIS Griffith was omitted from last year's Rainmakers & Potstirrers because he had temporarily dropped out of the South African mining business, having left his previous position as CEO of Anglo American Platinum in April 2020 on a high at the age of 55. His plan was to take a year's sabbatical and do some serious travelling to exotic destinations while indulging in his passion for birdwatching, but that got stymied by the Covid-19 pandemic.
Instead, he spent six months of what he terms "national service" working with Business for South Africa to help the government deal with the implications of the country's lockdown. After that he spent six months on regional travel before starting to look around for his next position and ending up eventually as CEO of Gold Fields, where he took over in April 2021 following the early retirement of Nick Holland. So far, Griffith has changed very little at Gold Fields, as far as outsiders can tell. He was in what he termed "listening mode" for much of 2021 and appears to have taken an approach of "not rocking the boat" - so far, at any rate.
He has reaffirmed the role of the troubled South Deep mine as a core "franchise" asset - so following Holland's long-standing commitment to the mine - and has reinforced the group's commitment to ESG (environmental, social and governance) policies. Griffith's stance on South Deep has been greatly helped by the fact that the mine is - at long last - making some money at current high gold prices and after the last major restructuring by Holland. On other key issues, such as a foreign dual listing, Griffith has remained non-committal so far, although he has taken Gold Fields back into the World Gold Council after a seven year absence.
LIFE OF CHRIS
Griffith is an engineer by profession, with a BEng Honours from the University of Pretoria, after which he became an Anglo American 'lifer', working his way up through the organisation, mainly through the ranks at Anglo American Platinum. He was moved into the upper management levels of the broader Anglo American group, becoming CEO of Kumba Iron Ore from 2008 to 2012. He was CEO of Anglo American Platinum from 2012 to 2020, guiding the group through one of its most difficult periods before stepping down because he felt it was the right time to move on.
More Rainmakers & Potstirrers