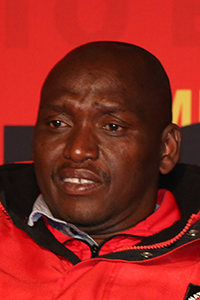 William

Mabapa
General secretary: National Union of Mineworkers
If people can leave your union and join others, you need to ask yourself many questions. Don't rush to anger.
WILLIAM Mabapa has plenty on his plate this year, but at least he can put a tick next to the National Union of Mineworkers' (NUM's) 17th annual congress during which he was elected secretary-general. Mabapa is plain-speaking, blunt and approachable - qualities that resonate with the union's rank and file. He has taken a rigid stance on issues such as the green energy transition, which NUM sees as a threat to jobs in the coal mines, and at state-run power utility Eskom. Under Mabapa, NUM has remained steadfast in its calls for the removal of top Eskom management, notably group CEO André de Ruyter. And it remains opposed to the unbundling of the utility. NUM on some fronts appears to have become more militant under Mabapa: its members temporarily closed the rebooting Blyvoor mine west of Johannesburg in 2021 after dozens were fired for taking part in a wildcat strike. The leader of a rival in-house union at Blyvoor was shot dead in March 2021, raising tensions.
In an interview with the Daily Maverick shortly after his election, Mabapa said it was time to recognise mistakes from the past including warring with rival union, the Association of Mineworkers & Construction Union (AMCU). That divide, he said, weakened workers and strengthened employers. Under Mabapa, the NUM intends to work more collaboratively with AMCU in an effort to rebuild his union's legitimacy.
The relationship is being tested. At the time of writing, the two unions took members at Sibanye-Stillwater's gold mines out on strike in a conflict that has the seeds for being a prolonged, painful battle. Political pressure was upped when South African president Cyril Ramaphosa, a founder of the NUM, commented that strikes ought not result in workers being "the losers'. Can there be any other result for striking workers anywhere in the world, especially as the cost of living is set to escalate?
LIFE OF WILLIAM
Mabapa worked his way up through the ranks in the platinum sector. He was first elected a NUM branch chairperson at Anglo American Platinum's Mogalakwena section in 1994 and became secretary for the union's North East region in 2002. He became deputy general secretary in 2015 and assumed the acting role in the top spot at the end of 2020 when general secretary David Sipunzi died suddenly after a short illness.
More Rainmakers & Potstirrers