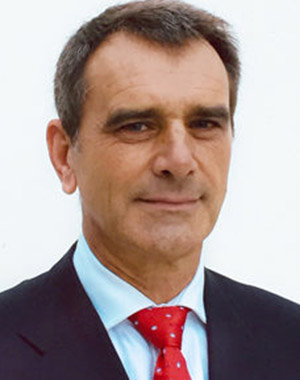 Tim

George
CEO: Pensana Resources
We looked to insert ourselves further downstream in the magnet metal supply stream.
ARE rare earths rare enough that you want to go and mine them in Angola? It's a tough call, and even Pensana Resources, which has an asset there, seems ambivalent. Nowhere on the home page of the company's website is Angola mentioned, and Pensana's major project inside Angola, Longonjo, isn't referenced until you scroll to the foot of the page. Instead, it's all about the UN, the EU and greening the UK's economy. Could it be that Angola wasn't getting any traction with the investment community?
Still, there's a mine to be built. Some £15m raised in June, supported by Angola's sovereign wealth fund, among others, is partly for the $140m Longonjo project, which is scoped to produce 4,600 tons a year of neodymium and praseodymium, collectively known as NdPr, specialist minerals used in the manufacture of long-life batteries for carbon-free mobility. CEO Tim George and colleague Pensana chairman Paul Atherley have been around the block a few times, and if rare earths in Angola won't fly, they know what will. So, pivot into the UK, where a new rare earths processing facility now looks likely to be built at Saltend.
In this guise, Pensana is cleverly positioned as a critical cog in the green supply chain that will help deliver the metals of the future to Britain, Europe and the wider global economy. And if anyone doubts how effective repositioning a narrative in this manner can be, note that in December the highly respectable investment fund M&G came into Pensana for £10m. That money won't be enough to get the $125m plant at Saltend built, but it will be enough to keep the show on the road.
LIFE OF TIM
Although Angola doesn't seem to get much of a billing at all these days, this is not George's first Angola rodeo. Back in the early days of the current millennium, before China had really taken off as a force in the sector and the aftershocks of the Angolan civil war were still being felt, George was in there with Xceldiam, a diamond exploration company that eventually sold out to Petra for £32m. Getting that sort of money out of Angola isn't a bad effort at all, and it's the type of country where you really need people who know what they're doing.
More Rainmakers & Potstirrers