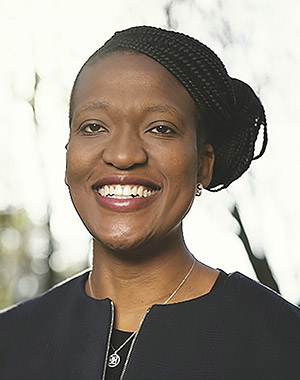 Nompumelelo

Zikalala
CEO: Kumba Iron Ore
Am I concerned? I am impressed; impressed with the team here and the foundation that's been laid.
NOMPUMELELO (Mpumi) Zikalala got the best possible start as CEO of Kumba Iron Ore after the company posted a 40% increase in headline earnings for its 2021 financial year. The key will be whether she will get the buoyant iron ore prices her predecessor Themba Mkhwanazi enjoyed. So far, you'd have to say yes. Despite a correction towards the end of 2021, iron ore prices have kicked off again this year, partly in response to geopolitical stresses in Europe. Whether Kumba will repeat the 100% payout of dividends announced for its 2021 financial year is debatable, however.
Mining inflation topped the agenda at Kumba's results presentation in February along with continued supply chain issues largely to do with Saldanha port logjams in South Africa. Zikalala has promised to slice R900m off the cost line this year whilst she also cites good progress in discussions with Transnet regarding its efficiencies. Zikalala is also positive on new technology being developed by Kumba: its ultra high dense media separation technology which will significantly reduce waste, lift grade and lower costs at the firm's Sishen and Kolomela operations. This is a critical advance - described as a "game changer" by Zikalala - seeing as it'll strengthen Kumba's position in world iron ore markets as a supplier of high quality material which attracts a premium. Instructively, the company averaged $161/t last year, 18% above the benchmark.
Project implementation will be another important theme for Zikalala. Kumba unveiled the R3.6bn life extension of its Sishen mine last year following from the R7bn Kolomela extension announcement a year earlier – both of which will be tracked closely given investor concerns regarding the life of Kumba's operations. New iron ore discoveries may also be a long-term feature given an increase in exploration in the Northern Cape.
Although an unknown quantity, Zikalala has massive experience running the De Beers mines in Canada and South Africa, and now a solid foundation in Kumba itself.
LIFE OF NOMPUMELELO
Zikalala matriculated at Inkamana High School in Vryheid, KwaZulu-Natal, and was awarded a bursary to study chemical engineering at the University of the Witwatersrand by De Beers Group. She became GM of De Beers' Kimberley Mines in 2007 and held several senior positions at the company before being appointed MD of De Beers Managed Operations in 2019. With 20 years in the Anglo group, she has done the hard yards. Zikalala joins Nolitha Fakude and Natascha Viljoen as the third woman holding a top job in the Anglo American group.
More Rainmakers & Potstirrers