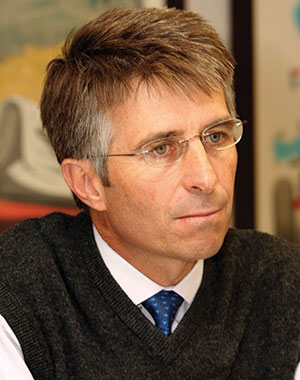 Clifford

Elphick
CEO: Gem Diamonds
I think we may well see some inflation. And of course, that's helpful for diamond prices.
GEM Diamonds has gone back to being the manager of a single mine – the Letšeng operation in Lesotho – with the simple aim of sweating it as hard as it can. Elphick says preserving cash and cutting costs are the priorities. This is a far cry from the early heady days of Gem Diamonds after its listing on the London Stock Exchange in February 2007. Then, armed with plenty of cash from hopeful investors, Elphick made a series of acquisitions, since abandoned, and embarked on the ill-fated development of the Ghaghoo mine in Botswana. Ghaghoo cost about $90m to develop, but it was only operated for two years before Elphick put it into mothballs.
Output was disappointing and prices for its diamonds were far less than anticipated. There is now an agreement to sell it for a mere $4m to Okwa Diamonds (a joint venture between Vast Resources and Botswana Diamonds). Elphick will heave a sigh of relief when or if that is concluded, since a previous agreement two years ago, to sell the mine to Pro Civil, fell through because some conditions were not met.
To maximise Letšeng's potential to turn out high-quality diamonds at irregular intervals, Gem is trialing technology to reduce damage to diamonds during mining, and to "see into" the rock for diamonds and then reach them as quickly as possible. Beyond 2030, Letšeng will also need to transition to underground operations. Since late 2020, prices for rough diamonds have been good and by end-2021, jewellery demand in the US and China was looking strong. This bodes well for the possibility of a special dividend, which would be on the table if Gem had "significant funds", Elphick assured shareholders.
LIFE OF CLIFFORD
In 1988, Elphick was seconded to E Oppenheimer & Son from Anglo American to be Harry O's personal assistant and became MD of the family firm two years later. Harry O died in 2000 and Elphick left the firm in 2004, to found Gem Diamonds the following year. He holds a BCom and BCompt Honours. Apart from his mining background, Elphick is also celebrated as the developer of Plettenberg Bay's first polo estate. The sport now generates over $40m in revenue a year for the area.
More Rainmakers & Potstirrers