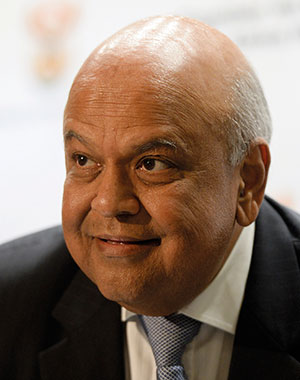 Pravin

Gordhan
Minister: Public Enterprises: South Africa
'We have just started to recover from state capture. How do we now guard against rent-seeking to make sure [climate funding] goes to places where it will be spent properly.'
IN corruption-riddled South Africa, there are still 'a few good men'. Pravin Gordhan is one of them. Hailed as incorruptible by the authors of his unauthorised biography, Gordhan stood firm against state capture during the Zuma presidency, which ultimately cost him his job as finance minister in 2017. He was handed something of a poisoned chalice when Cyril Ramaphosa, South Africa's president, put him in charge of the Public Enterprises portfolio in 2019. Transnet and Eskom still dominate the news headlines in South Africa – for the wrong reasons. In 2021, the country was plagued by a record number of power-rationing incidents, or 'load-shedding'. Between April last year and February this year, there were 58 days of power cuts. In 2021, state-owned freight company Transnet fell victim to a cyber attack that caused logistical gridlocks for days. In addition, Transnet's ailing rail and port infrastructure has gone from bad to worse, hampering exporters such as mining companies' ability to capitalise on the continued commodity cycle boom.
Such woes are legacy issues arising from years of mismanagement, but Gordhan is ultimately the custodian of these shambolic state-owned enterprises (SOEs). Their seemingly endless failures to deliver on mandates could tarnish his track record as an efficient public official. Not that he is entirely without blame. Gordhan often keeps mum when crisis communication is crucial. He has also been accused of frustrating privatisation efforts.
Gordhan recently expressed reservations about a climate finance agreement South Africa had reached with France, the UK, the US and Germany at COP26. In terms of the agreement, $8,5bn would be raised to assist the transition from a carbon-intensive to a green economy. Gordhan was sceptical South Africa's funders would keep their promise. In addition, he warned the country must guard against the rent-seeking that plagued it during the years of state capture.
LIFE OF PRAVIN
Gordhan holds a Bachelor of Pharmacy Degree from the former University of Durban-Westville and a DTech in Business Administration from the Free State Central University of Technology. He was a student activist in the 1960s and was later politically active in the South African Communist Party and ANC structures. He participated in the Codesa talks that preceded South Africa's first democratic election in 1994 and became an MP in the first ANC government. He served as commissioner for SARS in 1999 and as a cabinet minister in the finance and subsequently cooperative governance and traditional affairs portfolios in the South African government.
More Rainmakers & Potstirrers