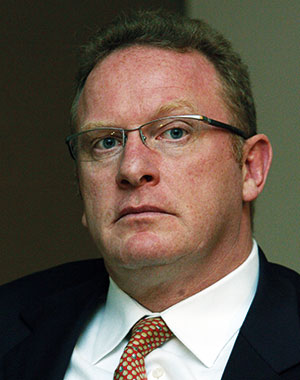 Clive

Johnson
President and CEO: B2Gold
There is really a strong case, and we are making that case in Zimbabwe. We are looking at it as intriguing potential, with some advanced projects as well as exploration potential.
DETAILS of what B2Gold's Clive Johnson has in mind for Zimbabwe's gold sector will come to light this year, after he said in November the company was looking to invest in the southern African country. According to Zimbabwe's mines minister, Winston Chitando, discussions are being held with privately held companies. This is an interesting departure for B2Gold, which has focused the majority of its time and money in Mali, where it operates the 550,000 to 600,000 ounce a year Fekola gold mine. Fekola had another strong year in 2021, clearly unaffected by Mali's 'coup within a coup', during which its interim president, Bah N'Daw, was arrested.
One good sign is a dispute regarding the extension of a permit over part of the Anaconda exploration site - which has 767,000 oz in inferred resources 20km north of Fekola - has been resolved. That's good news as the area has some of the high-grade intersects Papillon Resources first encountered at Fekola prior to B2Gold's $570m buyout of that firm in 2014. And no need then for the International Court of Arbitration in Paris that B2Gold had engaged. In corporate activity, B2Gold sold its 81% stake in the 6.8 million resource oz Kiaka Project in Burkina Faso to West African Resources.
This is B2Gold's second outing with West African, an Australian listed gold producer, following the 2020 sale for $45m of the Toega gold prospect, also in Burkina Faso. In return for selling Kiaka, B2Gold will be paid $22.5m in cash, 22.1 million West African Resources shares, and a 0.45% net smelter return royalty on the first 1.5 million oz produced from the mine. A further $45m in West African shares will be paid no later than October this year.
LIFE OF CLIVE
Johnson established his reputation with Bema Gold, which was bought by Kinross in 2007 for C$3.5bn. He then regrouped with former Bema colleagues to establish B2Gold, which embarked on an aggressive acquisition strategy culminating in the $570m purchase of Papillon Resources in 2014. Interestingly for a Canadian, he played rugby union and occasionally takes a robust approach to critical analysts. Last year, he sanctioned the company's initiative to use proceeds from specially minted 'Rhino gold bars' to protect the critically endangered black rhino population in Namibia, where B2Gold runs the Otjikoto mine.
More Rainmakers & Potstirrers