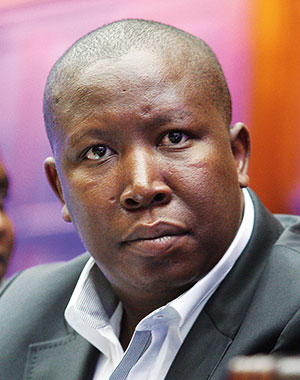 Julius

Malema
Commander-in-Chief: Economic Freedom Fighters
We are very clear with what we are doing. Fighters and ground forces, don't be discouraged by media hyping non-existing parties. We are eating the elephant piece by piece and it looks like it is collapsing very fast.
JULIUS Malema remains the enfant terrible of South African politics. Exploiting South Africa's racial and class divisions, the leader of the radical Economic Freedom Fighters (EFF) has a simple remedy for South Africa's economic ills: nationalise everything, notably the mines, the banks and the land. In the party's rendering, South African history is a straightforward tale of white settlers stealing the land and natural assets from Africans.
Therefore, the white capitalist establishment has no right to the loot or its ill-gotten gains. Sticking to its hard line, the party did not support a vote in Parliament in December to change the constitution to allow explicitly for expropriation of land without compensation, pulling its support because the ruling ANC would not support the EFF's proposal for state custodianship of land. That meant the governing party failed to get the two-thirds vote required.
Regarded by many political commentators as a dangerous populist - or outright fascist - Malema did not lead the EFF to a predicted red wave in the local government elections in October of 2021. It received 10% of the vote, up from 8% in 2016 - so there was growth, but hardly a surge. The fact that Malema was unable to cash in politically on the rise of poverty and unemployment that have been a consequence of the Covid-19 pandemic, and the lockdowns to contain it, may signal that the party has reached the peak of its support. But Malema remains a political force and there is plenty of misery out there for him to exploit.
LIFE OF JULIUS
Known as 'Juju', Malema hails from the platinum-rich South African province of Limpopo - a province also saddled by the stark racial divisions that Malema exploits. A former ANC Youth League leader, he was expelled from the ruling party in 2012. Malema revived his political career by founding the EFF in 2013, exploiting events like the Marikana Massacre to gain traction. The party is known as the 'Red Brigade' because in Parliament its MPs wear red overalls, the uniform of the domestic working classes.
More Rainmakers & Potstirrers