Economic Freedom Fighters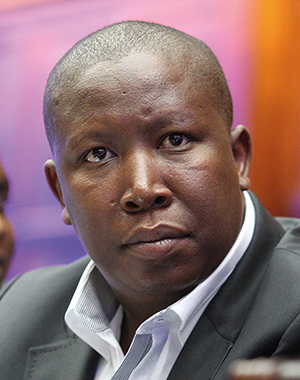 A FIERCE critic of President Jacob Zuma, the EFF has been steadily building its support base, particularly among young, marginalised black voters. Despite holding only 25 seats in the National Assembly, the EFF has been a constant source of disruption in Parliament. It has refused to acknowledge Zuma as president, accusing him of corruption and acting to the benefit of his family and friends, the Guptas and his business associates. Malema has also been lobbying for an increased pace of transformation and wealth distribution, warning business to find long-lasting solutions or face "revolution". While the EFF has been working in coalition with other opposition parties against the ANC, notably in the metropolitan regions of Tshwane, Nelson Mandela Bay in Port Elizabeth, and Johannesburg, 2018 may bring closer collaboration between the EFF and the ANC, following the ruling party's decision to allow (limited) land expropriation without compensation. Malema has built the EFF on the back of the land issue, as well as calls for the nationalisation of banks and mines, and will likely use its vote in Parliament as a bargaining chip to get the ANC to the two-thirds majority it requires to change the Constitution. With Zuma soon to be out of the picture at Luthuli House, few political analysts will be surprised if the ANC, which is facing dwindling support, uses the land issue to bring the EFF back into the fold.
LIFE OF JULIUS
'Juju', as he is popularly known, joined the ANC at the age of nine, when his job was to remove National Party posters from lamp poles. He was ANC Youth League president from 2008 until his expulsion from the party in 2012, and founded the EFF in 2013. He holds degrees in political leadership and philosophy.