Economic Freedom Fighters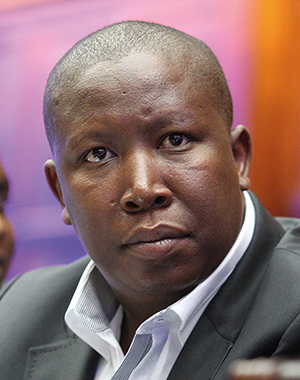 For Julius Malema, only one thing matters at this point: winning as much support as possible in South Africa's 2019 national elections. A survey by the Institute of Race Relations, released in December, puts the ruling African National Congress's (ANC's) support at 59%, with the Democratic Alliance at 22% and the EFF at 11%. The more votes, the more bargaining power Malema will have, particularly with the ANC, which will need his support to get its controversial land expropriation without compensation policy changes through Parliament. Malema, who cunningly forced the ANC's hand on expropriation, has never been one to shy away from controversy. This has landed him and the party in a number of tight legal spots, with litigation against him by parties ranging from AfriForum and the South African National Editors Forum (Sanef) to Public Enterprises minister Pravin Gordhan. Most pressing, perhaps, is the criminal case brought against him for encouraging supporters to illegally occupy land. Malema, his deputy Floyd Shivambu, and the EFF, have also been implicated in benefitting from money looted from VBS Mutual Bank. The National Prosecuting Authority is also still deciding whether to prosecute him for allegedly improperly benefiting from a Limpopo province tender in 2012. The mining industry – one of his earliest targets – has been spared most of Malema's wrath recently, but it will take nothing more than a clever catchphrase to get EFF supporters breaking down the door.
"We must never be afraid of dying. They can't kill all of us."
LIFE OF JULIUS
A former ANC Youth League leader and master propagandist, Malema was expelled from the ANC in 2012. This led to the founding of the EFF in 2013, with the party winning 6% of the vote in 2014. Initially a fierce supporter of president Jacob Zuma, whom he helped propel into power, Malema became one of his fiercest critics.