Commander-in-Chief: Economic Freedom Fighters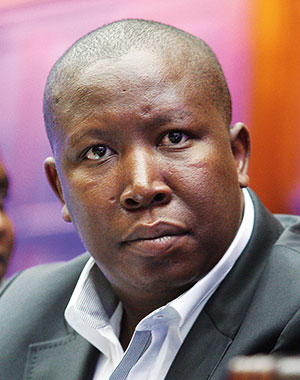 The enfant terrible of South African politics, who leads the radical Economic Freedom Fighters (EFF), Julius Malema saw his party's support grow by 4.4 percentage points to 11% in the 2019 national elections. Its platform included a pledge to "nationalise all mines and mineral wealth in South Africa". The mining industry should not feel targeted or singled out – the EFF wants to nationalise everything in sight in pursuit of a socialist utopia that reverses the pernicious ownership legacies of colonial conquest and apartheid. Critics see an even more ominous agenda than total economic control and accuse Malema and his red brigade of being outright fascists who dangerously stoke racial tensions.
Malema has certainly displayed a penchant for intolerance: the party has banned online publications Daily Maverick, Scorpio, and amaBhungane from its events. This is because the publications and others have followed the money and implicated Malema, his deputy Floyd Shivambu, and the EFF as beneficiaries of money looted from VBS Mutual Bank. VBS's client base was impoverished rural dwellers in the old Venda homeland, so it is embarrassing for the EFF, whose members clad themselves in red overalls to show solidarity with the working classes, to face allegations of stealing from the poor in a reversal of Robin Hood's role.
The party also spectacularly misjudged the national mood when it tried to cast aspersions on the Springboks' Rugby World Cup victory. In late 2019, Malema was charged with discharging a firearm in public during an EFF celebration the previous year. He was re-elected EFF president at the party's elective conference in December.
"THE OWNERS OF THE MEANS OF PRODUCTION ARE WHITE PEOPLE. IT IS WHITE PEOPLE WHO PREFER FOREIGN NATIONALS OVER SOUTH AFRICANS."
LIFE OF JULIUS
A former ANC Youth League leader and master propagandist, Malema was expelled from the ANC in 2012. This led to the founding of the EFF in 2013. The EFF is well known for its political theatrics, with its MPs, clad in the red overalls of domestic workers, frequently disrupting parliament. But the party has a gathering atmosphere of menace around it.