Chairman: Kalagadi Manganese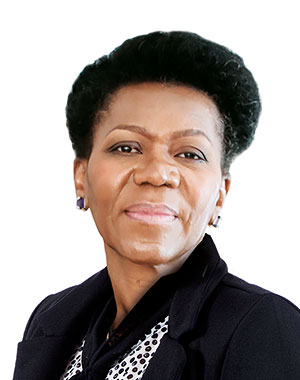 The crowning moment for Daphne Mashile-Nkosi during 2019 was putting her signature on a railway allocation agreement for Kalagadi Manganese. Prior to that, efforts fell wholly on building a R9bn mine and sintering plant. The bloody-mindedness needed by Mashile-Nkosi to drive the project may not have made many friends, but it has resulted in a mine and plant that critics said couldn't be done. All staff at Kalagadi, at which she is the chairperson, respectfully call her "ma'am" and eyebrows are raised if an outsider calls her by her first name.
To underscore the point on the take-or-pay agreement, South Africa's chastened state-owned transport utility, Transnet, would not have signed off on a rail allocation if they weren't sure it would deliver the tonnages. Talk on the sidelines was of very difficult negotiations between Kalagadi and Transnet, but the end result was a contract to move 650,000 tons of sinter in 2020, rising to one million tons. Mashile-Nkosi, a recognised and multi award-winning businesswoman, is pushing hard for manganese to become a more strategically important mineral for South Africa outside of supply to steel mills.
Kalagadi is working with a research group to develop a prototype battery using manganese with a view towards setting up manufacturing facilities in the Northern Cape province. The idea is to join with other manganese producers creating an industrial hub. However, Kalagadi must first repay its substantial debt before it advances any plans on a manganese smelter, a long-cherished dream of Mashile-Nkosi's.
"TODAY IS A HISTORIC MOMENT. WE HAVE A SIGNED A CONTRACT THAT IS A TAKE-OR-PAY DEAL. I CAN'T FAIL. I HAVE TO DELIVER."
LIFE OF DAPHNE
Mashile-Nkosi was raised in Pilgrims Rest in eastern South Africa and after completing school became an activist. She started Kalagadi Manganese as its executive chairperson in January 2001.>