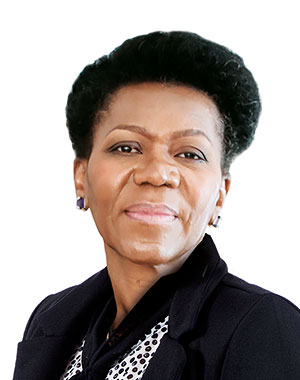 Daphne

Mashile-Nkosi
Executive chairperson: Kalagadi Manganese
Invariably, the beast of patriarchy cannot control the manifestation of its ugliest side.
DAPHNE Mashile-Nkosi doesn't shrink from a fight. 'Bull in a china shop' might be a blunter description, as her combativeness has lost Kalagadi various potentially useful partners over the years. Originally formed as a joint venture between ArcelorMittal (50%), Kalahari Resources (40%), and the Industrial Development Corporation (IDC) with 10%, Kalagadi has the notable achievement of having built a manganese mine and sinter plant near Kuruman in the Northern Cape. (Plans for a smelter at Coega near Gqeberha in the Eastern Cape have not panned out.) In 2017, ArcelorMittal managed to agree an exit five years after citing concerns over corporate governance, including "refusal to embrace joint control principles". Mashile-Nkosi said the global steel company wanted to control the project.
More partner distress emerged three years later, when the IDC, now holding a 20% stake, filed a business rescue application for Kalagadi. The IDC argued Kalagadi could not service its loan repayments and had not reached design capacity of 250,000 tons/year. Kalagadi replied that it was still in the development phase and blamed contractor Murray & Roberts Construction for its production target failures. An out-of-court settlement was explored on condition managerial and funding issues were addressed, but that doesn't appear to have solved the matter. Criticisms about corporate governance may have some legs: South Africa's King III and IV corporate codes state that the chairperson of a company should be independent and non-executive.
But even if she changed her title, Mashile-Nkosi is unlikely to willingly take a step back from the company she founded. Given her fiery reputation, it is hard to imagine any other funders, let alone new shareholders, waiting in the wings. The question for 2022 is whether Mashile-Nkosi is the company's long-term management answer or if Kalagadi's much-needed recapitalisation will usher in a new management structure.
LIFE OF DAPHNE
Mashile-Nkosi was raised in Pilgrims Rest in eastern South Africa and after completing school, became a political activist. She started Kalagadi Manganese as its executive chairperson in January 2001. Her biography is a remarkable tale of grit and determination: in one early business lunch meeting ahead of forming Kalagadi she kept to a diet of water as she couldn't contribute to the restaurant cost. Mashile-Nkosi chairs the WDB Investment Trust and was a founding shareholder of Eyesizwe Coal and involved in the formation of mobile phone operator Cell C.
More Rainmakers & Potstirrers