Chairman: Kalagadi Manganese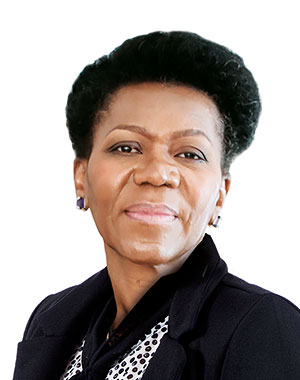 It got ugly for Daphne Mashile-Nkosi in 2020; very ugly, very quickly. Court documents came to public light in May in which Mashile-Nkosi's Kalagadi Manganese sought to fend off attempts by its 20% shareholder, the Industrial Development Corporation (IDC), to put the manganese producer into business rescue. Purportedly, Kalagadi can't pay interest or capital on some R3bn in debt, as well as R2.9bn which is owed to the African Development Bank. Kalagadi's court effort was successful, but seeing as his was only on a technical matter, there's an inevitable discussion due with the IDC which wants to refresh management, although the understanding its Mashile-Nkosi will stay on the board as chairperson.
This is something of a crushing blow for Kalagadi, a rags-to-riches story that turned on the R9bn mine and sintering plant construction in impoverished Northern Cape province. Last year, Kalagadi signed a 650,000 tons/month off-take deal with Transnet in a sign that the firm's route to market had been sealed, but the manganese market is fickle and last year it duly fell in a heap. Covid-19 lockdowns appear to have hit supply more than demand so a revival in manganese may be underway, but Kalagadi needs a complete recapitalisation that could see the introduction of a new shareholder. The IDC says it has no appetite for further risk in the company.
IT MAKES ME ANGRY THAT MY PERSONALITY IS IN QUESTION. THEY BROUGHT ME IN BECAUSE I'M STRONG. I DID IT BECAUSE I HAD THE BALLS TO DO IT. I'M OVER 60, FOR GOD'S SAKES!
LIFE OF DAPHNE
Mashile-Nkosi was raised in Pilgrims Rest in eastern South Africa and after completing school became an activist. She started Kalagadi Manganese as its executive chairperson in January 2001.