CEO: Minerals Council South Africa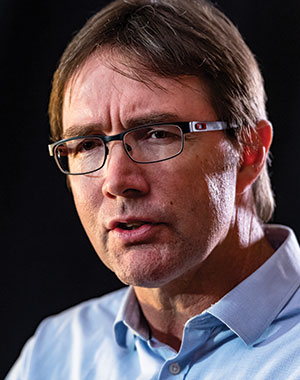 Roger Baxter makes light of his combative relationship with Mineral Resources and Energy Minister, Gwede Mantashe. But it's clear there is an underlying fundamental difference between the champion of South Africa's mining industry and the regulator. Since the merger of the Mineral Resources and Energy departments, Baxter now has two fronts on which to battle Mantashe, and victories are needed at both from an industry perspective.
Baxter has a firm mandate from members to fight the third and controversial Mining Charter all the way through the courts if need be, although the preference is for an out of court settlement. The two biggest areas of contention in the Charter are the need to renew black economic empowerment structures up to a 30% ownership threshold on the transfer and renewal of mining rights, and the high levels of local participation in the supply of goods and services.
Mantashe shows no signs of backing down, particularly since the Department, under his instruction, has appealed a court ruling that gave recognition to historic empowerment deals. In a second, equally pressing task, Baxter will drive the industry's push to generate its own electricity. He's critical of the rolling blackouts enforced on the industry by Eskom, and its impact on mining companies, but more important for Baxter will be to play a constructive role and swing public opinion behind the Minerals Council. At difficult times like these, maintaining open communications and not shutting down with any stakeholders is important, and it's one area where delegation to a Minerals Council colleague won't pass muster.
"THE FUTURE PRICE TRAJECTORY [OF ELECTRICITY] IS THE DEALBREAKER FOR THE INDUSTRY BECAUSE IT'S HELLUVA DIFFICULT TO PLAN FUTURE INVESTMENTS ON SMELTERS AND REFINERIES BASED ON AN ELECTRICITY PRICE THAT HAS CONSISTENTLY BEEN ALL OVER THE PLACE."
LIFE OF ROGER
Born in 1966, Roger Baxter has honours in commerce from the University of Natal and has been Minerals Council South Africa CEO since 2015. He's a keen historian, something that will stand him in good stead as he steers the newly-branded council into a new dawn for South African mining.