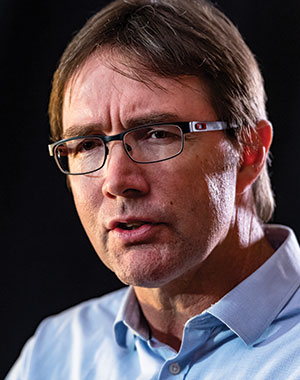 Roger

Baxter
CEO: Minerals Council South Africa
Renewable energy projects in the mining sector could go a long way towards easing the pressure on Eskom to the benefit of other industries and the country as a whole.
ROGER Baxter is an economist with the demeanour of a diplomat, a valuable commodity in the fraught environment of South African mining. Baxter must walk a fine line between defending the interests of the mining sector while maintaining cordial relations with an increasingly dysfunctional regulator - the Department of Mineral Resources and Energy (DMRE). Baxter and the council's relationship with Minister Gwede Mantashe is on a far better footing than under his predecessor, Mosebenzi Zwane, who was tainted by allegations of fostering state capture under disgraced former president Jacob Zuma. Yet Baxter's patience must be wearing thin as the DMRE continues to mangle mining policy.
The council scored a huge legal victory in September via a High Court ruling that set aside aspects of the Mining Charter, effectively declaring that once a mining company has met its black empowerment targets it is 'always empowered'. But the government may seek to have struck down clauses in the Mining Charter made into law anyway by amending the parent legislation, the Minerals and Petroleum Resources Development Act. Baxter and the council have also been at the forefront of efforts to change policy to enable mining companies to pursue their own self-generation projects to cut carbon footprints and reliance on the unstable state-owned power company, Eskom. "These projects must be expedited through a smart tape system. Environmental authorisations take too long and should be materially shortened.
In addition, policy issues related to wheeling charges and surplus offtake to other users are required," Baxter said in November. He also frequently calls on the government to implement wider structural reforms to unlock the economy's wider potential. Looking ahead, the council must get to grips with a worrying regression in mine safety.
LIFE OF ROGER
Born in 1966, Roger Baxter has an honours degree in commerce from the then University of Natal. He has almost three decades of experience in the mining industry, having joined the then Chamber of Mines in 1992. Baxter became the chamber's chief economist in 2000, and CEO of the rebranded council in 2015. He has twice left the council, once emigrating to Canada. Luckily, he came to his senses – and back to South Africa - to fight the cause at home. Baxter has an affable manner and is widely regarded as an articulate voice for the industry.
More Rainmakers & Potstirrers