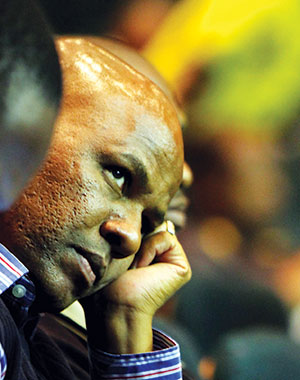 Joseph

Mathunjwa
Founder: Association of Mineworkers & Construction Union
The fact is that capitalism is inherently immoral..."
JOSEPH Mathunjwa's position as leader of the Association of Mineworkers and Construction Union (Amcu) was in limbo as 2022 dawned. In November 2021, the Labour Court in Johannesburg ruled that his election as president in 2019 was 'unlawful' and should be set aside. The thrust of the ruling was that Mathunjwa had not been employed by a company since 2013 and so could not be a union member.
He has remained at the helm pending the outcome of an appeal, but was conspicuous by his absence in November from rallies linked to wage talks with Sibanye-Stillwater's gold division. On that front, miners from Amcu and three other unions are widely expected to down tools this year in Sibanye-Stillwater's gold shafts. Amcu's decision to unite with rival unions, notably the National Union of Mineworkers (NUM), marks a startling turning point in its history, and may point to the waning influence of its charismatic founder.
Amcu and NUM have long regarded each other as enemies. The rivalry turned lethal a decade ago when Amcu dislodged NUM as the dominant union on the platinum belt, triggering a turf war that has claimed scores of lives, including the 34 striking miners shot dead by police in the Marikana Massacre. Mathunjwa has an uncompromising cast of mind, blending a radical leftist take on the economy with African nationalism and an intense Christian faith. If he is ousted, there is no obvious successor: few unionists can work a crowd like Mathunjwa. If he does go down, it won't be without a fight.
LIFE OF JOSEPH
Mathunjwa founded Amcu in 1999 as a NUM breakaway in the Mpumalanga province coal fields after a falling out with then NUM secretary-general Gwede Mantashe. Shaven-headed and intense, he can be a charismatic speaker as he fires up his rank and file with biblical references and calls for class warfare. A member of the Salvation Army, he is a lay preacher and plays the trumpet. 
More Rainmakers & Potstirrers